Les Sources du Chéry: a stunning day spa in Les Gets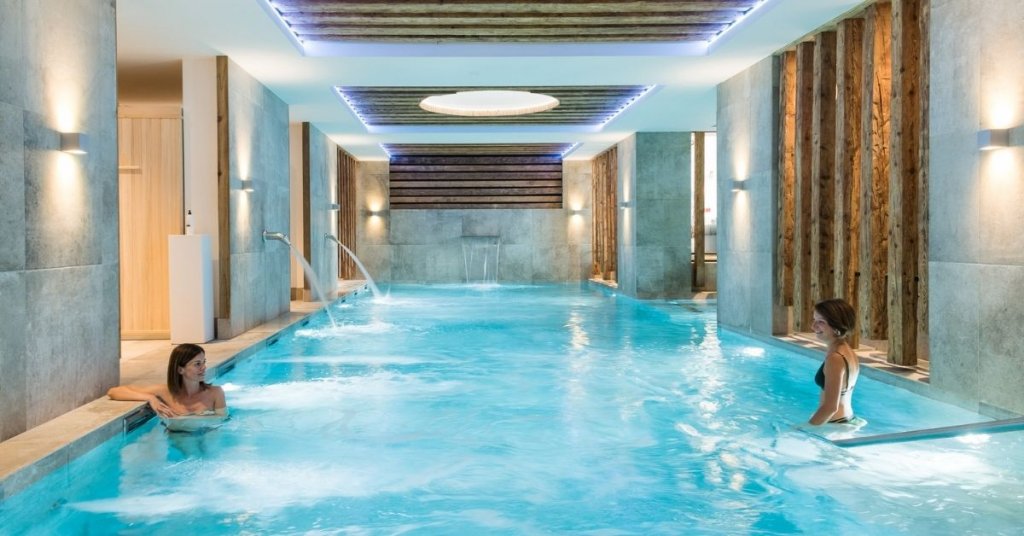 If you're looking for a day spa in Les Gets, look no further. Les Sources du Chéry is simply stunning, with pools, treatment rooms, sensory showers and calming spaces to relax, including a hot tub overlooking the mountains. Located right in the heart of the village of Les Gets, this is one of the best spa experiences in the Alps.
Les Sources du Chéry
Les Sources du Chéry is a luxurious and ultra-modern day spa in Les Gets promoting Alpine wellness. Treatments include personalised massages, body scrubs and wraps using products made with natural Alpine ingredients. The spa has a tranquil swimming pool, steam room, sauna, hot tub and salt room to soothe aching muscles after a day of skiing, hiking or biking.
Ethos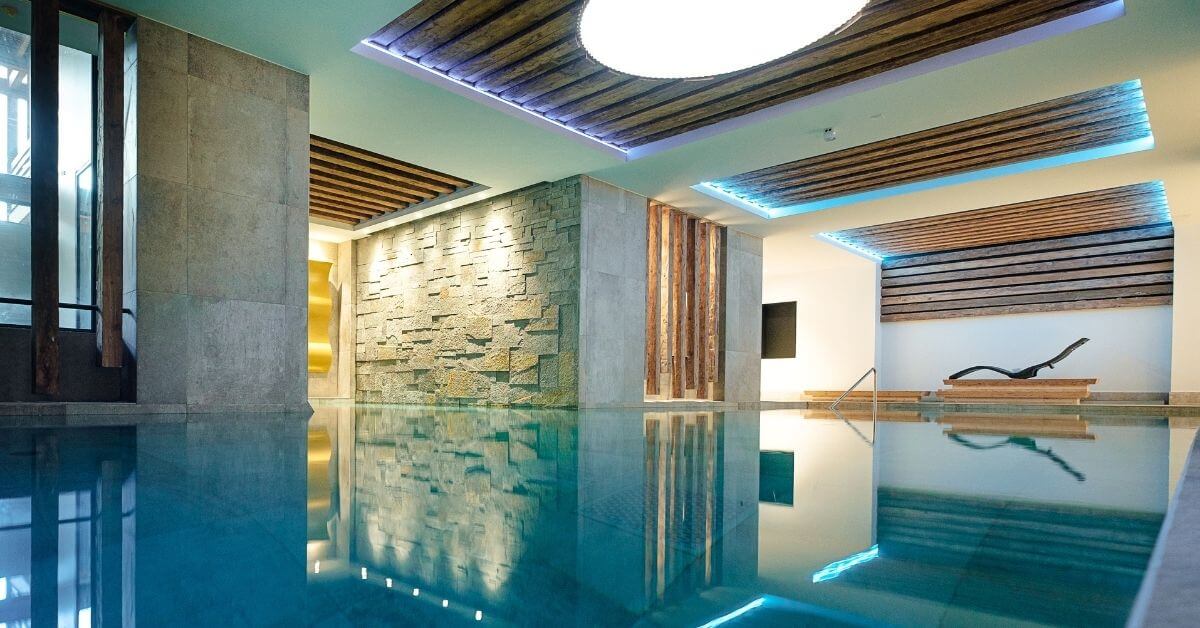 Inspired by the mountains and their natural water sources, the beautiful interior space is designed from natural wood and stone and has a cosy chalet vibe with plenty of candles, low lighting and soft fur throws to wrap-up in. For treatments, French-made skincare products by Exertier are used, containing ingredients sourced from nature including alpine orchids and mountain honey.
Facilities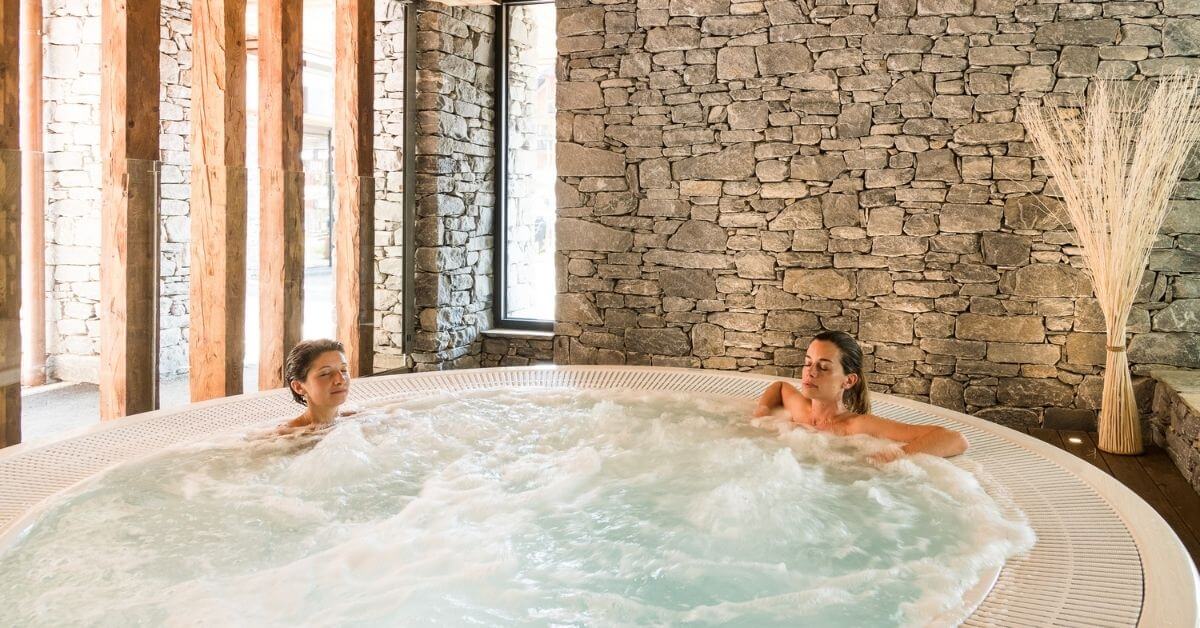 The spa features a swimming pool, lap pool, steam room, sauna, cold plunge pool and hot tub, which is open to the outdoors, allowing a flow of fresh mountain air. While swimming, a counter-current helps keep you fit and hydrotherapy jets and cascades improve circulation. In the relaxation area, a sensory shower uses hot and cold water, scent, lighting and sounds to awaken the senses.
Spend some time in the spa's salt room. Minerals from Himalayan salt are said to boost mood, ease allergies and rejuvenate the skin. Curl up on a heated lounger for a while or soak your tired post-hike feet in a circulation-boosting foot bath.
Take a virtual tour of the spa
Treatments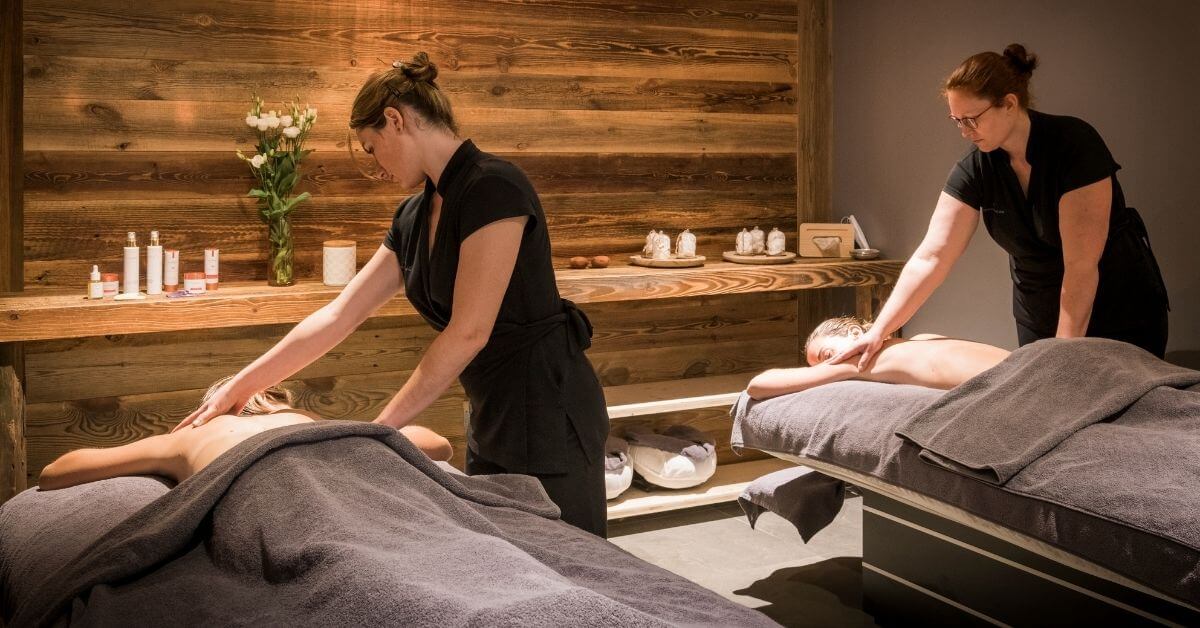 Whether you would like an invigorating or more indulgent treatment, there is a wide range of massages, facials, body scrubs and wraps to choose from, using natural honey and Exertier oils. A sports massage will ease away the knots after an active day on the slopes. An energising massage will give you a boost if you are feeling burned out. Or, you can opt for a relaxing massage to destress and enjoy a restful sleep. Treatments can be taken together with a partner, family member or friend.
Location
You can find Les Sources du Chéry spa on the ground floor of the new Le Soloret building. The building also contains luxury holiday penthouses such as Le Coin Perdu, a gym, tea house and an art gallery showcasing works by local artists, some of which are available to purchase. Le Soloret is located on Route des Grandes Alpes, just a few minutes from the ski lifts, and four minutes' walk from the centre of Les Gets. Parking is available on the underground level.
Opening times
The spa's wellness suite and treatment rooms are open from Wednesday to Saturday between 10am and 1pm and 3pm and 7.30 pm. If you are staying with Hunter Chalets, chat to our concierge who can book a session for you at a discounted rate.
Where to stay
Les Sources du Chery spa is in the same building as our penthouse Le Coin Perdu, and you can enter the spa reception without stepping out into the snow. This beautiful chalet sleeps ten in four en-suite bedrooms and a bunk room. Floor-to-ceiling windows offer lovely views of the village and slopes. There are plenty of luxurious touches, including a bespoke wine cellar, outdoor hot tub and fully-stocked bar. Guests staying at Le Coin Perdu receive discounted passes for the spa.
Les Gets chalet inspiration
Contact us
For reservations and further information, email or call us: