Les Gets Bike Park: the ultimate guide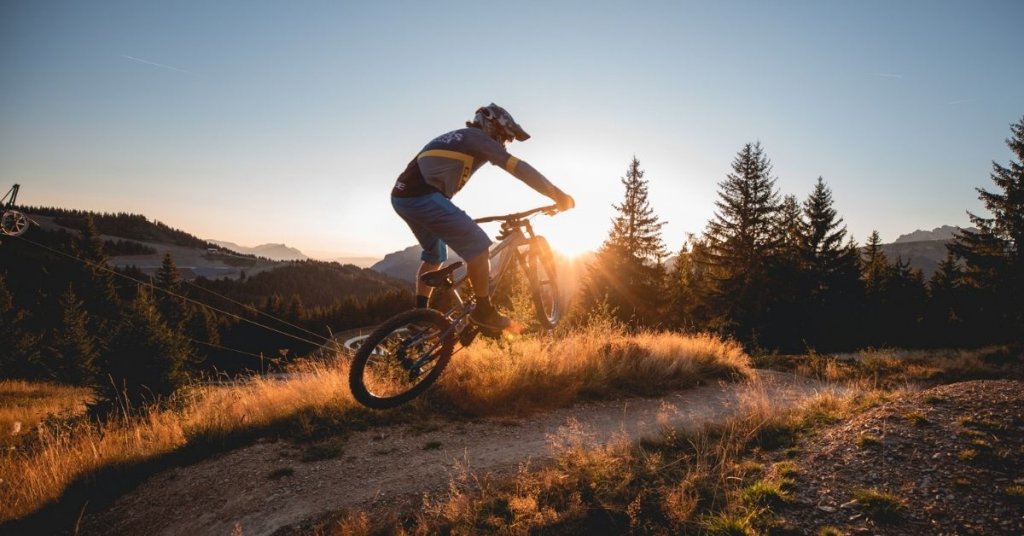 Les Gets Bike Park is the biggest bike park in Europe, a world-famous mountain biking site with 128km of marked trails ready to be explored. Want to know more? Read on…
Les Gets Bike Park
Summer sees Les Gets transformed into a playground for mountain bikers. Fly along dirt trails and practise hitting jumps in the warm sunshine, enjoying the fresh air and panoramic views of Mont Blanc. Les Gets Bike Park has dozens of trails taking you up and down valleys, along ridges and through shaded pine forests. There are colour-graded tracks to suit everyone, from nervous beginners to skilled riders, including thrilling downhill routes, cross-country trails, jump parks and a kids' zone. Riding the 80-kilometre long Enduro trail is a wonderful way to see Alpine towns and villages, lakes, waterfalls and magnificent mountain vistas.
A world-class mountain biking destination, Les Gets hosts many international events, including the MTB World Championships and Pass Portes du Soleil. In town, you'll find plenty of specialist bike shops for equipment and repairs. Beginners can get instruction on riding the terrain at one of several local bike schools, too. Just ask us for recommendations.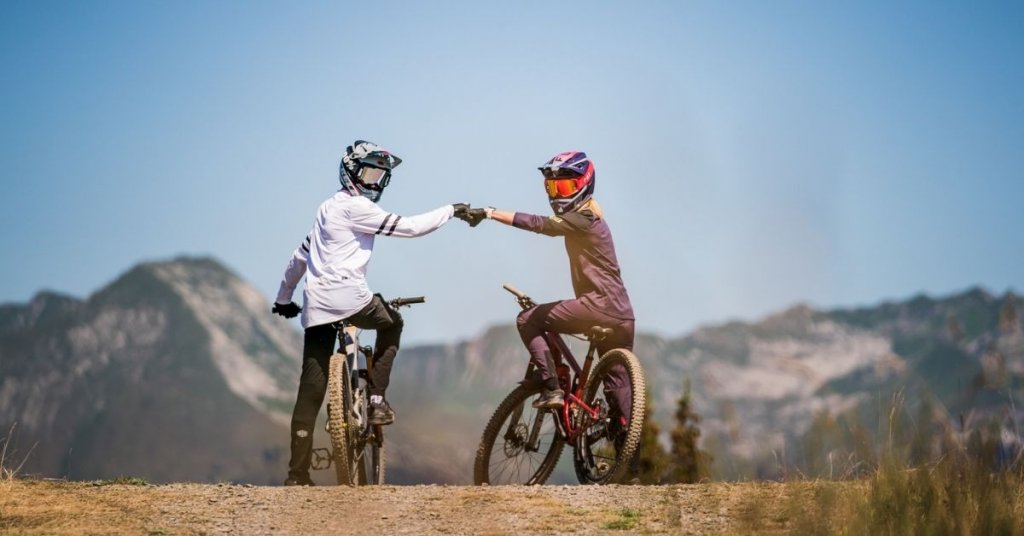 10 reasons to visit Les Gets Bike Park
128km of trails
Lift-accessed mountains
13 downhill tracks
5 cross-country tracks
80km Portes du Soleil tour
Electric-mountain bike tracks
Cross, slalom and pump tracks
Jump park and mini jump park
Coaching track and accredited instructors
Kids' zone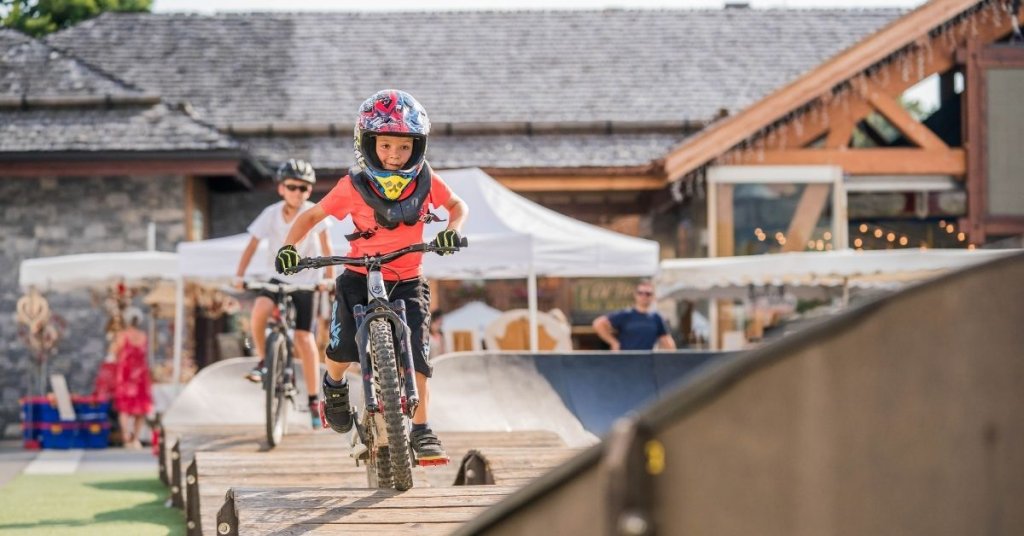 When is Les Gets Bikepark opening in 2023?
Les Gets Bike Park is opening on weekends from Friday 26 May 2023. The Bike Park will fully open from 16 June 2023. These dates are subject to weather conditions and government announcements.
Chavannes Express and Nauchets chairlifts
Pre-opening weekends:
Thursday 26 to Monday 29 May 2023 (Pentecôte)
Friday 2 to Sunday 4 June 2023
Friday 9 to Sunday 11 June 2023

Full opening:
From Friday 16 June to Sunday 17 September 2023
End of the season weekends opening:
Friday 8 to Sunday 11 September 2023
Friday 16 to Sunday 18 September 2023
Mont Chéry cable car and Le Pointe chairlift
Opening:
Friday 23 June to Sunday 3 September 2023

These opening dates are subject to weather conditions.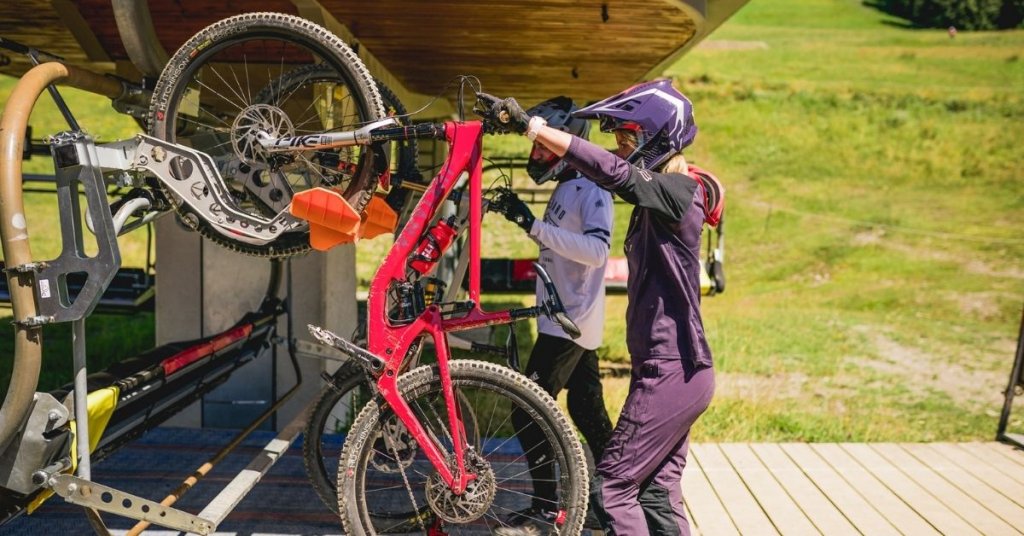 Summer lift passes
A summer lift pass gives you access to three lifts in Les Gets: Chavannes, Nauchets and Mont Chéry. You can purchase and renew your pass online, at one of the ski pass offices, or in any of the nearby mountain resorts. One-way tickets, cards, day, weekly, and seasonal passes can all be purchased, along with pedestrian passes if you simply want to watch all the action!
Mountain biking in the Portes du Soleil
The Portes du Soleil area includes 13 different mountain resorts spread over a dozen valleys. With five different bike parks, Chatel, Les Gets, Avoriaz, Morzine and Champery-Morgins, you could spend a lifetime trying out all the different trails. Châtel has plenty of variety and technical trails. Morzine is famous for the legendary Pleney downhill track. Les Gets and Avoriaz are good for beginners and families, while Champéry-​Morgins is best for more experienced riders. Longer trails criss-cross the mountains and valleys with breathtaking views all around.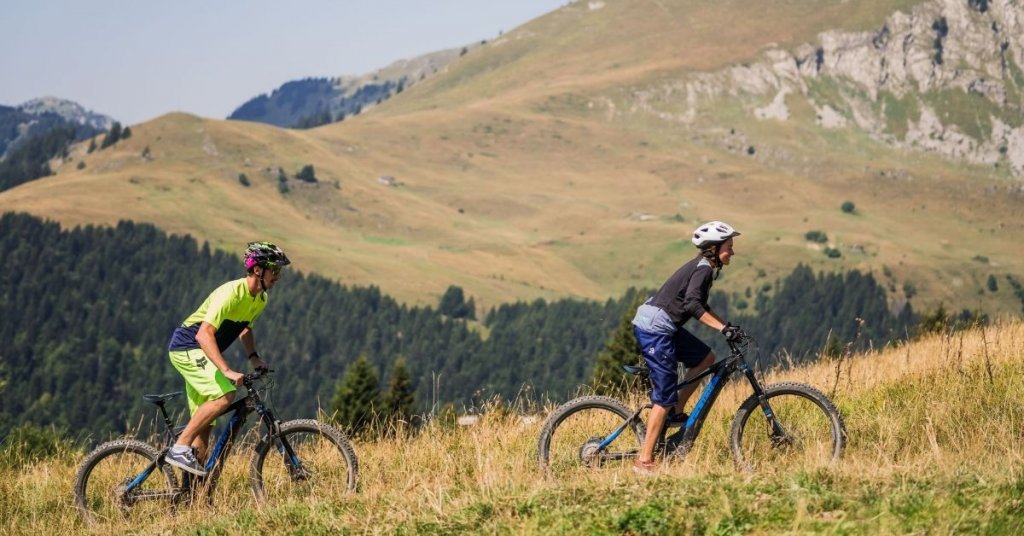 Biking in Les Gets
There are many different styles of biking you can try in Les Gets, some more traditional than others!
Cross-country (XC)
Cross-country mountain biking takes place on long distance trails designed to test your endurance and skill. You'll need to be fit and comfortable in the saddle for longer amounts of time. In Les Gets, you can leave the bike park behind and set off on an adventure along the 80-kilometre Portes du Soleil trail.
Enduro
Cross-country mountain biking takes place on long distance trails designed to test your endurance and skill. You'll need to be fit and comfortable in the saddle for longer amounts of time. In Les Gets, you can leave the bike park behind and set off on an adventure along the 80-kilometre Portes du Soleil trail.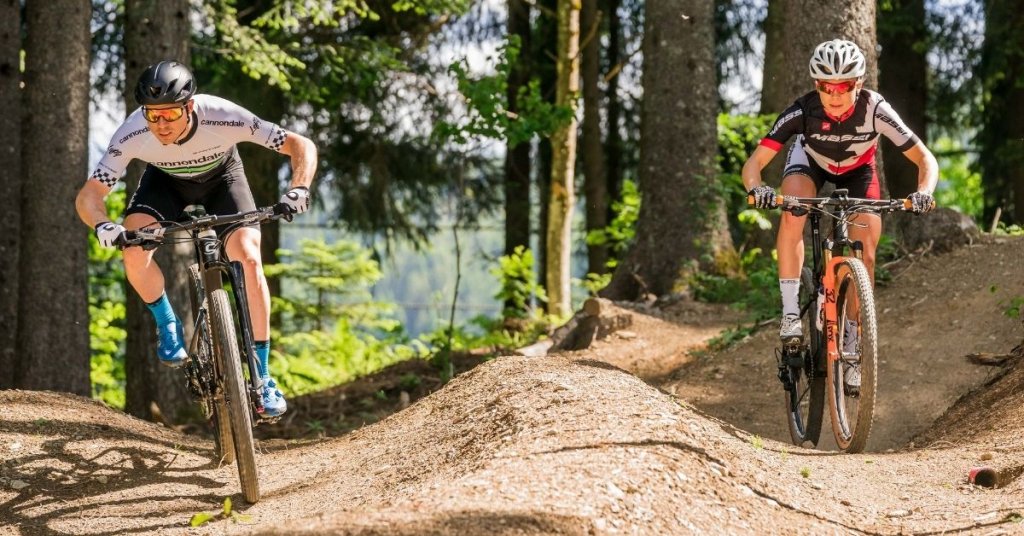 Downhill (DH)
If you get a thrill from going fast and have a good sense of balance then downhill may be the right style of mountain biking for you. You'll definitely get an adrenaline rush! At Les Gets Bike Park, the black slope Dans L'Gaz is the most famous downhill track, with a drop of almost 2000 feet. But don't worry if that sounds too terrifying. There are dedicated tracks for beginners, plus a coaching track. Downhill is also great fun to watch!
Electric mountain biking
The newest style of mountain biking, e-mountain biking is a good choice if you don't fancy suffering from aching thigh muscles at the end of the day. It's easier to climb to higher altitudes and go greater distances without getting tired. Les Gets Bike Park has five trails adapted for e-mountain bikes. You can also take one on the Portes du Soleil trail which has charging points along the way.
Road cycling
Unlike mountain biking, road cycling takes place on any paved surface. Tackle shorter distances, or test your endurance on an epic journey along mountain roads with steep ascents and descents. From Les Gets there are routes in either direction all through the mountains, with challenging climbs that will test your fitness. Road cycling events can also be great fun to watch. Traditionally, one stage of Tour de France passes through Les Gets en route to Morzine.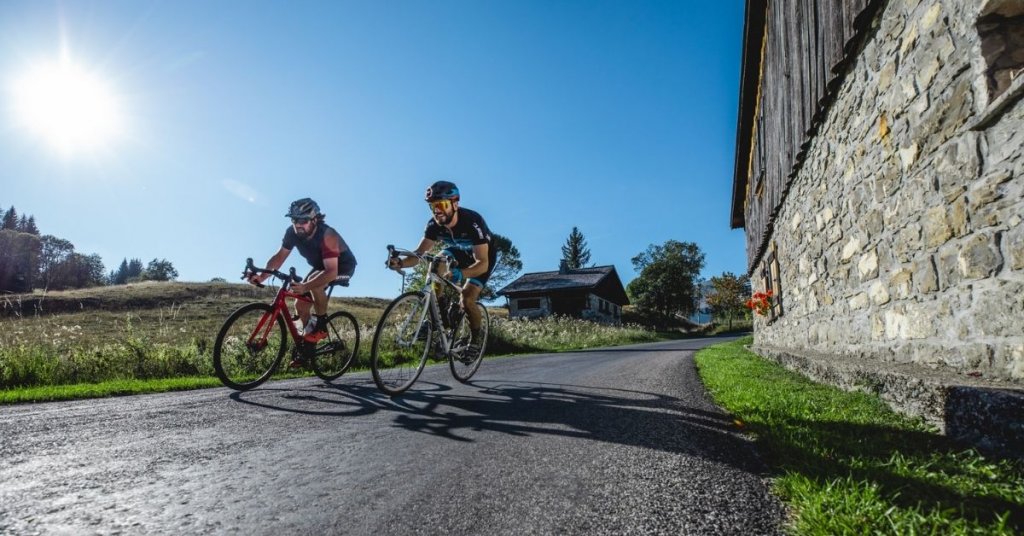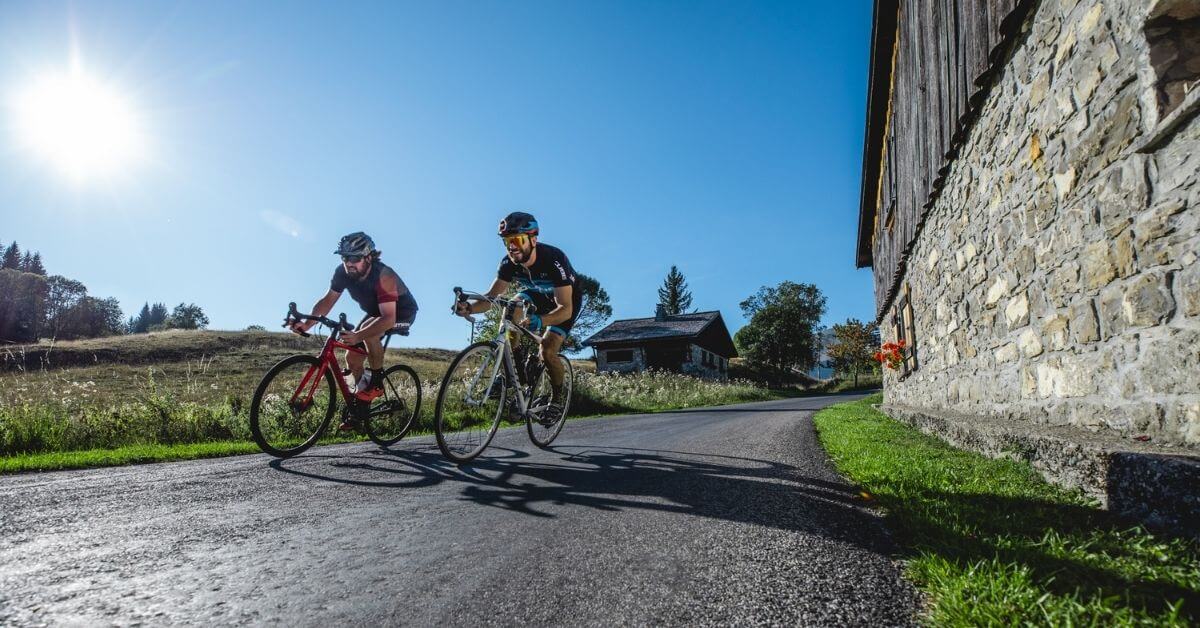 Fat Biking
Fat bikes are used on difficult terrain like mud, snow and sand. These bikes are specially designed with thicker than average tyres, so you can ride to places you can't reach on a standard mountain bike. You can take your fat bike on the chairlift and explore the bike park.
Balance bikes
One of the trickiest things about learning to ride a bike is staying upright and that's where balance bikes come in. These bikes don't have pedals and are designed so that you focus on your balance first. If you're new to biking, the bike schools and academies around Les Gets take complete beginners, from toddlers all the way up to adults.
Getslib
In Les Gets you can hire a self-service e-bike to get around the town. Register online, and go for a spin whenever you want during the day, seven days a week. The first 30 minutes of any ride are free. You can also ride out to Lac des Ecoles for a picnic and an afternoon in the sunshine.
Jump Park
Below the Nauchets Express chairlift in Les Gets' Chavannes area is a three-hectare jump park, which is now classified in the double black category after being redesigned in 2020. It consists of 26 modules blending forest roots and huge aerial footbridges to the delight of trick-lovers. Les Gets also boasts another mini-jump park, plus four-cross, dual slalom and pump tracks.
Les Gets Bike Park map
Les Gets summer chalet inspiration