Ski lift guide: the different types and how to use them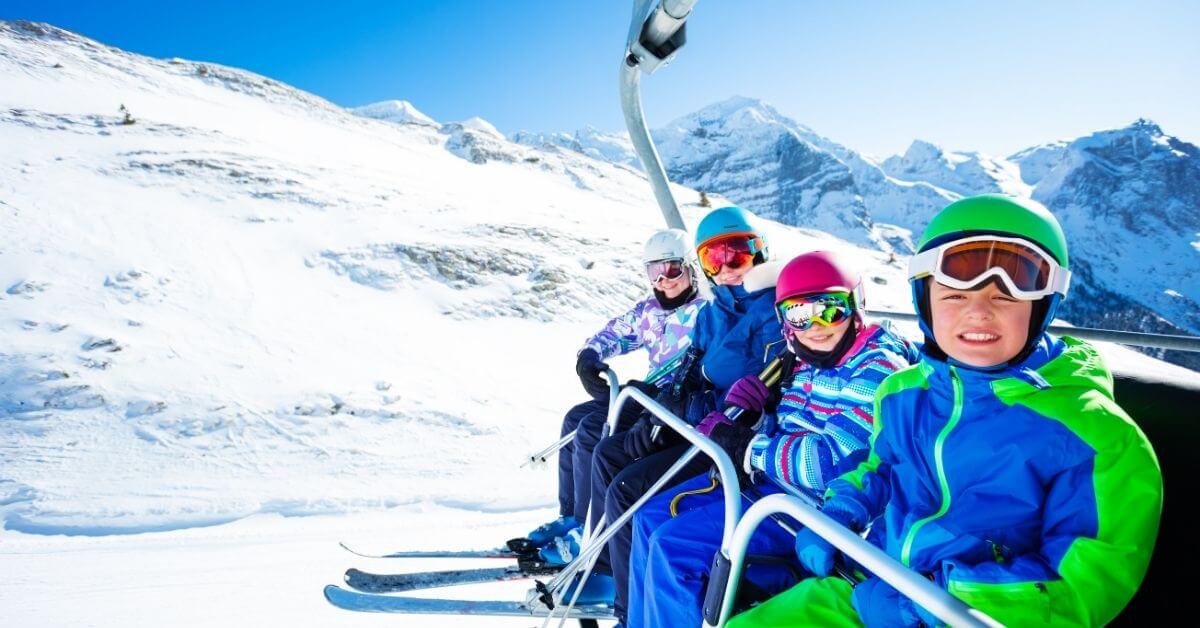 Ski lifts – you either love them or you hate them. Some can genuinely be a thrilling and scenic ride, while others can be a little nerve-wracking. Knowing what to expect is key to having a smooth ride, so here's our guide to the different types of ski lift and how to use them.
Ski lift guide
Chairlifts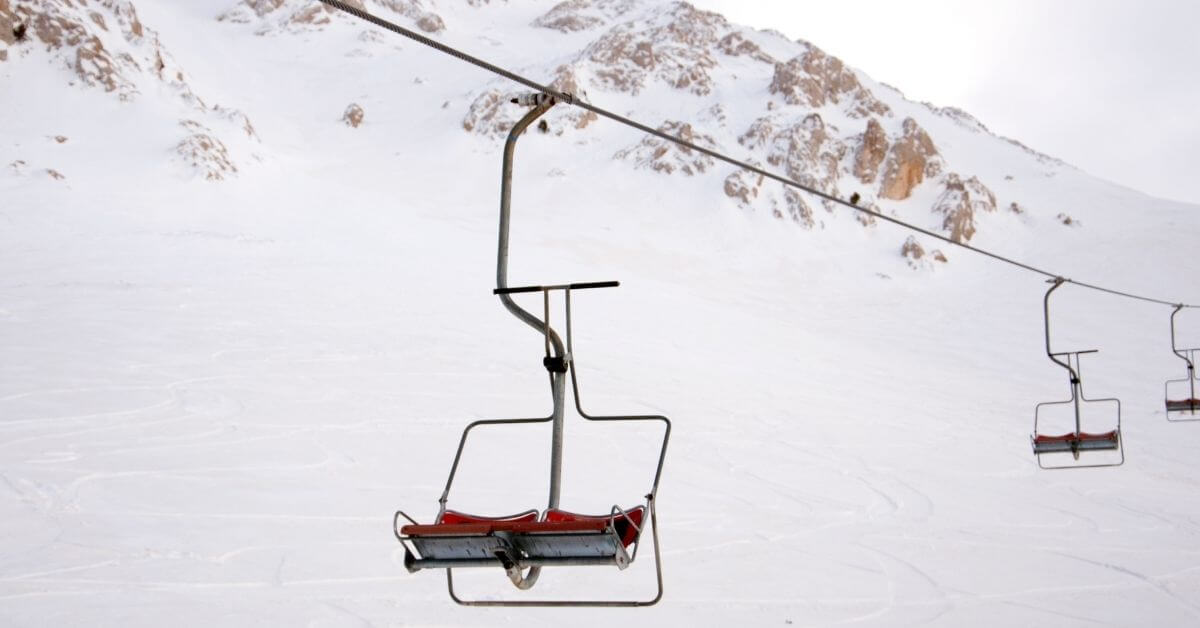 The most common type of ski lift is a chairlift – a chair attached to a frame that is pulled along a wire that tracks up the ski slope. Usually, chairlifts hold multiple people – sometimes up to eight people at a time.
Boarding an eight-person chairlift might sound daunting, but as they move along on the wire, the chairs tend to slow down as they approach the boarding station so it's easy to get on, and once you're seated, they provide a fantastic view over the mountains as you glide to the top of the slope.
How to use a chairlift:
Hold both your ski poles in one hand
If wearing a rucksack, take it off and hold it in front of you
Stand directly in the line of where the chair will travel, alongside your fellow skiers
As the chair comes around, check behind you and gently sit when it arrives
Once you're off, check everyone else on the chair is OK and lower the safety bar
Now, enjoy the view!
Getting off chairlifts is simple: as you approach the top of the slope, raise the bar and as your skis touch the ground, simply stand up and ski away.
Gondolas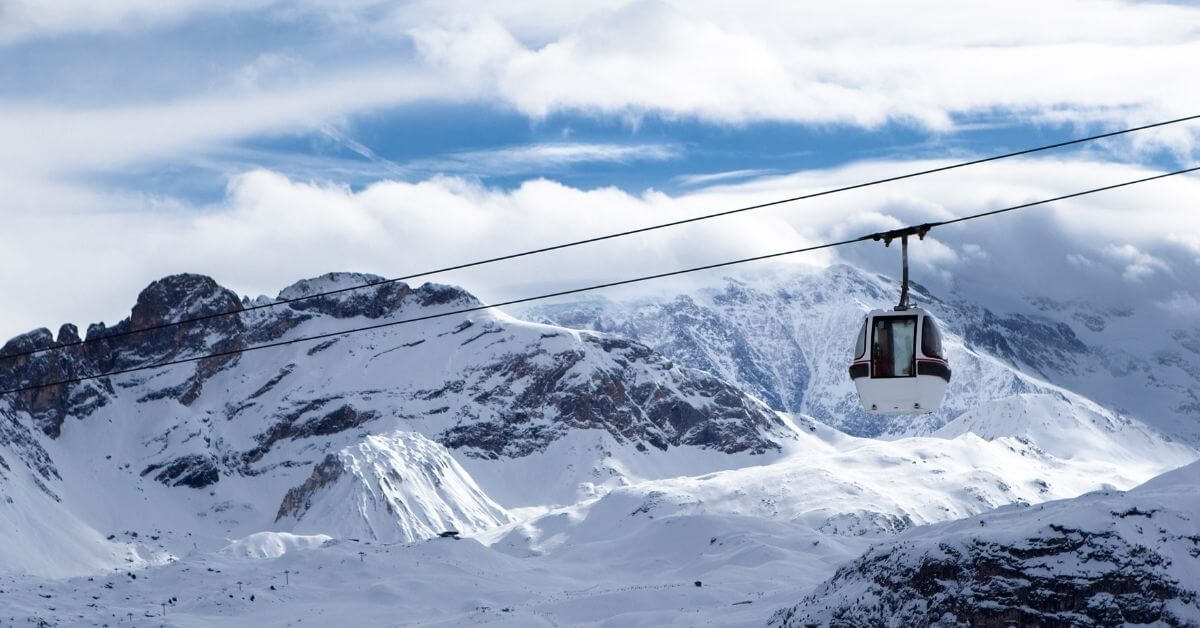 One of the easiest types of ski lift to use, but first to close in bad weather, gondolas are another aerial experience. Almost like glass boxes suspended on a cable, they vary in size and etiquette on using them depends on how many people can go inside. For larger gondolas that can fit up to 30 people, you can carry your skis and poles inside with you as it's standing room only, but for smaller ones that seat just four, you'll likely have to store your equipment in the compartment outside before you get in.
How to use a gondola ski lift
Take off your skis and wait in line at the ski lift station
As your gondola comes around, it will slow down to allow you all to board
Either stand or sit and enjoy the ride
Once the doors open at the other end, simply step off
Don't forget to collect your equipment if you've placed it on the rack outside
Drag lifts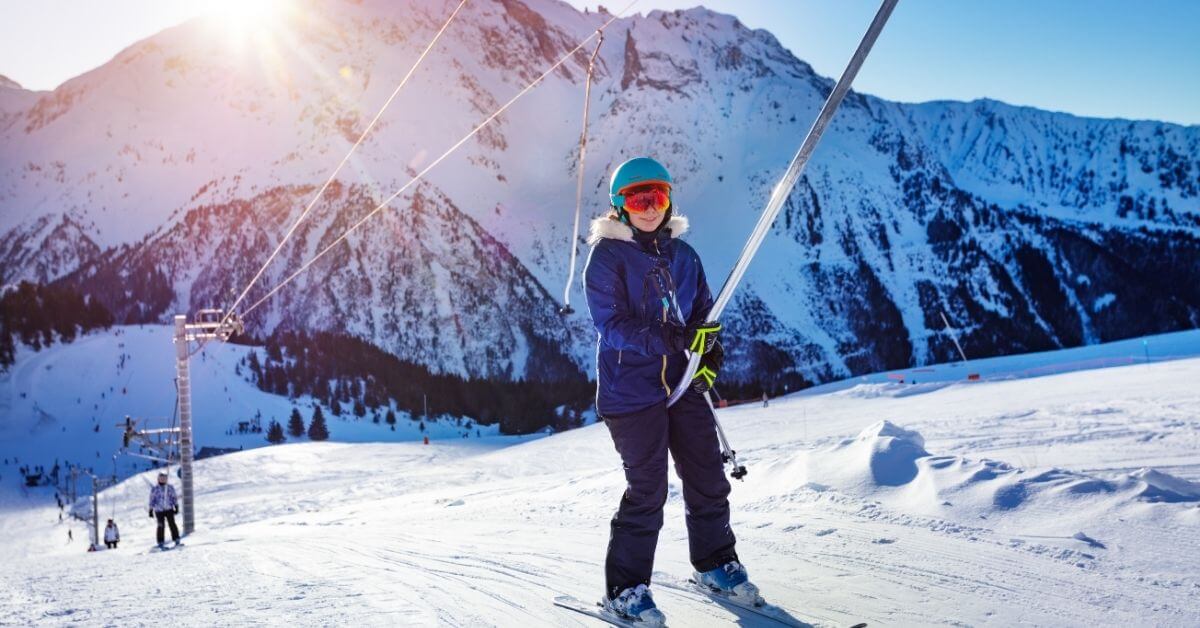 Most common on beginner slopes, drag lifts do as the name suggests – you hold on and they drag you up the slope. They largely come in two forms: a button lift or a T-bar lift. The former is a round 'seat' (don't actually sit down, though – more on that below) that's attached to the cable via a pole, and the latter has a T-shaped bar that does a similar job but can also accommodate two people, rather than one.
How to use T-bar/button lifts:
Hold your poles in one hand
Grab the button/T-bar lift as it comes around
Place the T-bar or button seat between your legs
Do not sit down, this lift is not designed to take your full body weight!
At the top, simply squat a little and release the T-bar or button from between your legs and ski away
Cable cars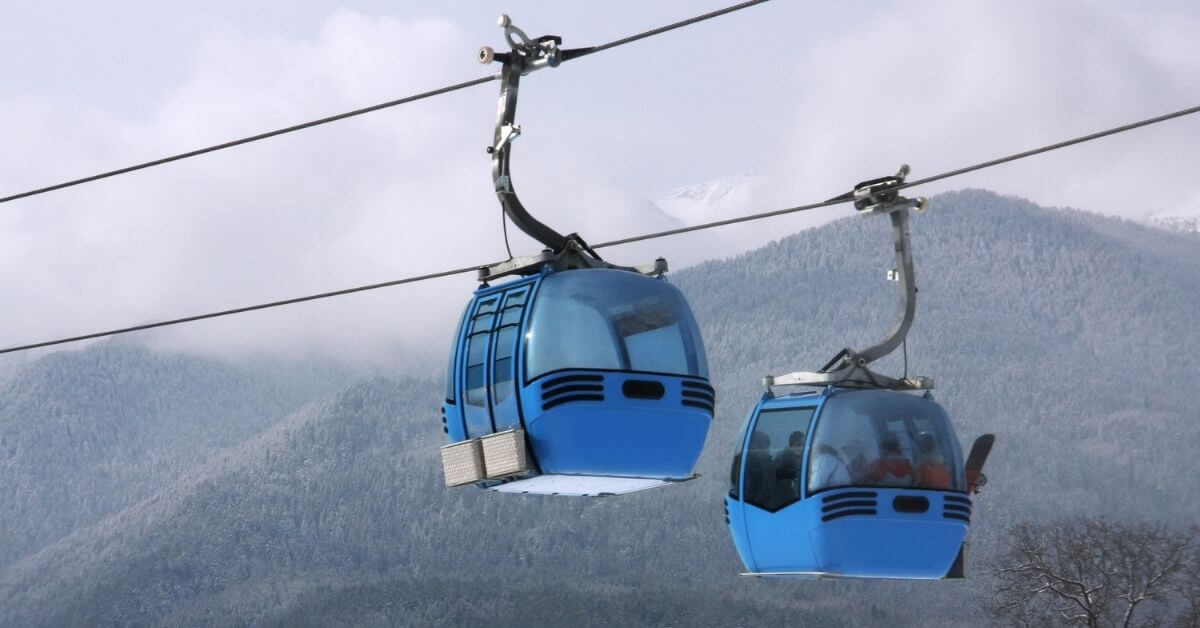 Cable cars look a bit like gondolas but there's usually only two of them going back and forth between the top and bottom of the slope. This is because they operate on a pulley system and they travel in opposite directions at the same time. These are commonly affected by adverse weather, so will often be closed in high winds, but they can carry huge numbers of people. The Vanoise Express, which travels between Les Arcs and La Plagne, can carry up to 200 people on its near two-kilometre journey.
How to use a cable car ski lift:
Take off your skis and carry your equipment with you while you wait
The cable car will stop to let everybody on
Once inside, stand still for the duration of the journey
The cable car will stop once it has reached the top
Funiculars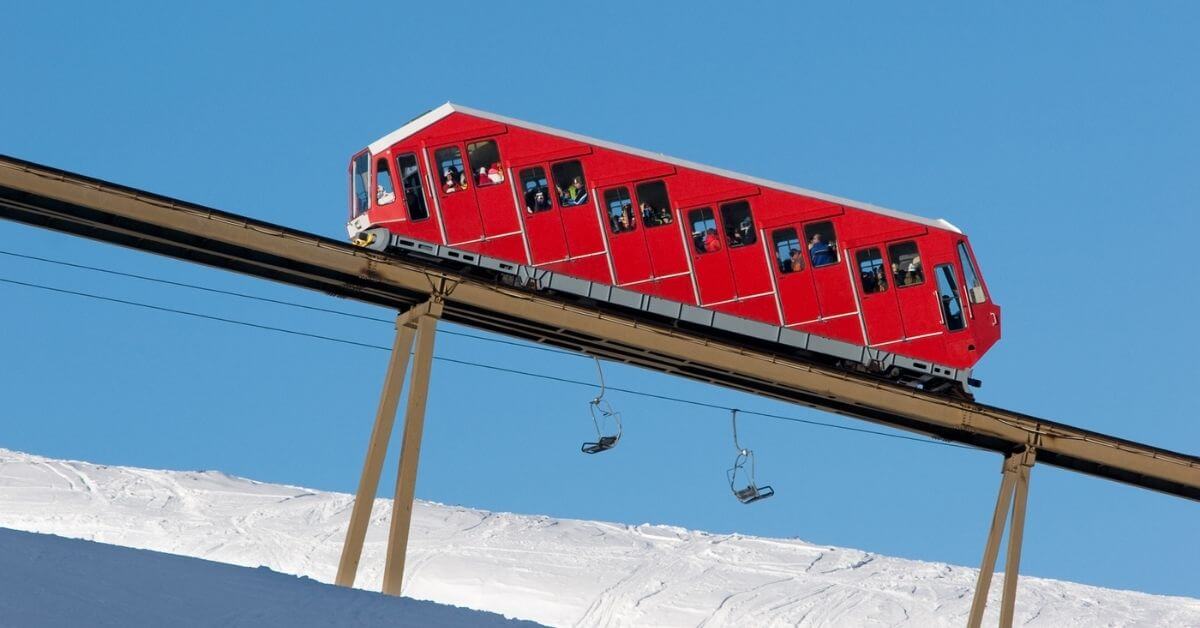 These are often called mountain railways and are essentially carriages that operate on train tracks that travel up and down the mountainside.
How to use a funicular ski lift:
Remove your skis and hold your equipment as you wait at the station
Step aboard once the funicular arrives and doors are open
Stand still as you travel up the mountain
Disembark as you would on a train
Rope tows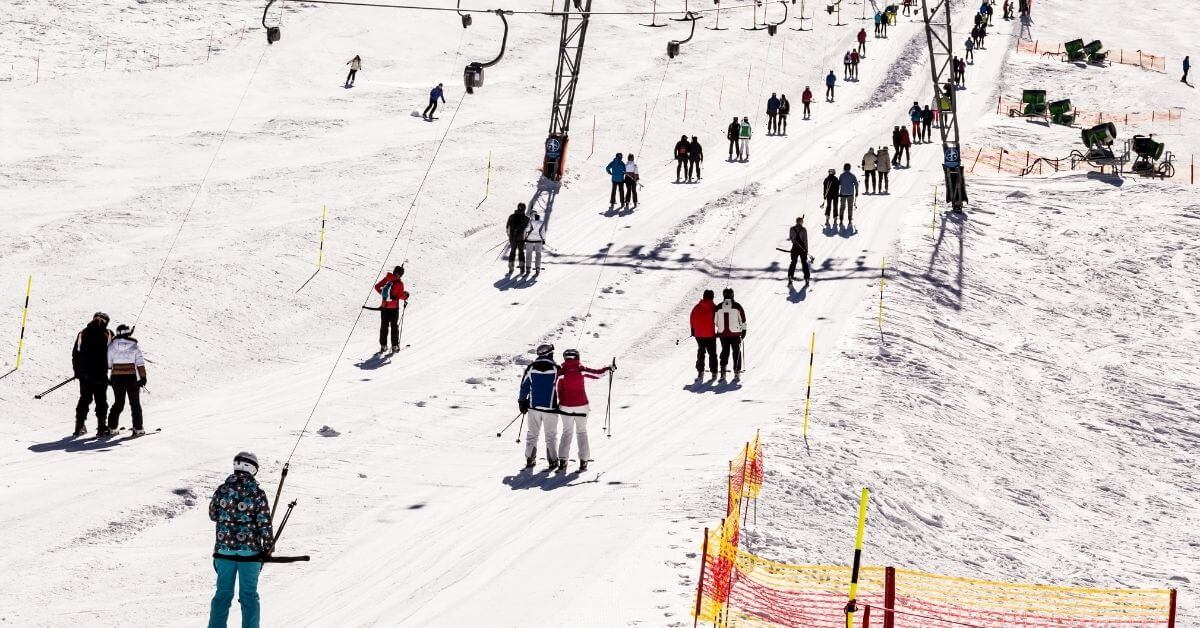 Just as it sounds, a rope tow is a simple ski lift whereby you hold onto a rope which continuously travels upwards to the top of the slope. These are common for beginners where there is no steep incline.
How to use a rope tow ski lift:
Hold your ski poles in one hand
Ensure you're facing the direction of travel
Grab onto the rope and hold it into your side, so you travel in line with the rope
Once you reach the top, simply ski away
Magic carpet ski lifts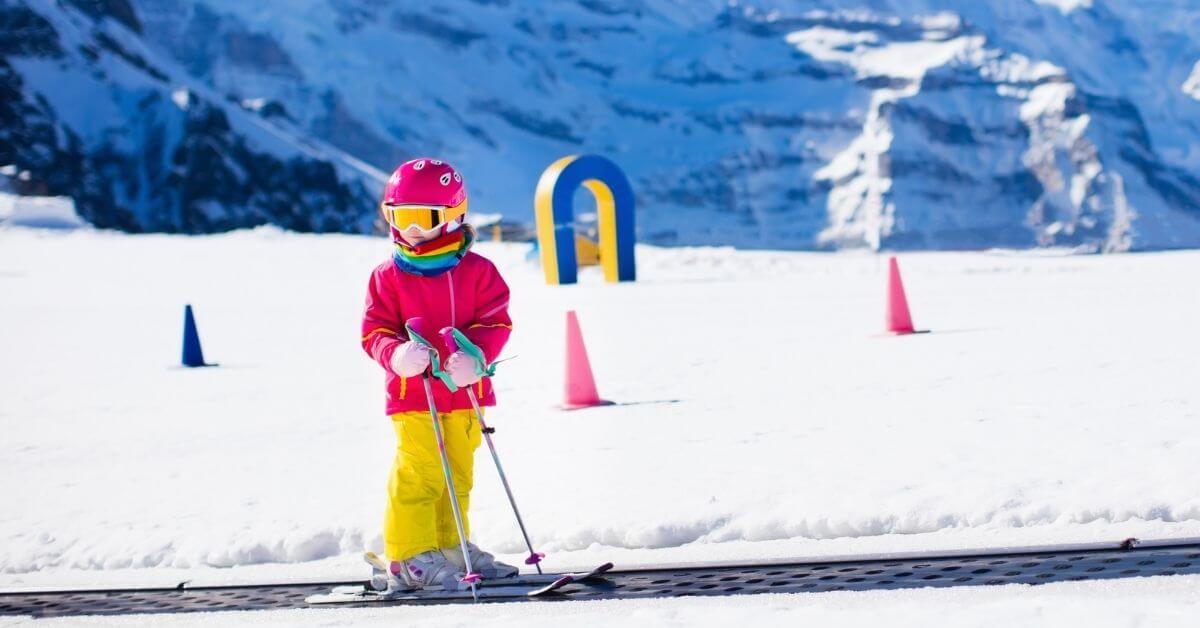 No, we're not confusing ski lifts with the Aladdin movie. Magic carpet ski lifts are essentially a conveyor belt you can step onto and off of easily. They're used for short distances for beginner slopes. There is one at the top of the Pleney slope in Morzine and also one in Les Gets, near to the top of the Chavannes slope.
How to use magic carpets:
Hold your poles in one hand
Slowly advance towards the belt with baby steps in your skis
Once the edge of your skis hits the belt, you'll be carried onto it
Stand still on your skis while the belt is carrying you
You can easily ski off the belt once you reach the top
Did you know?
In Morzine, we have four types of ski lift: drag, chair, gondola and cable car. In Les Gets, we have largely chairlifts.
Ready to ski in France?
Choose a resort
To contact the Hunter Chalets team, email info@hunterchalets.com or call us on +44 20 3745 3452 or +33771866547