Morzine ski passes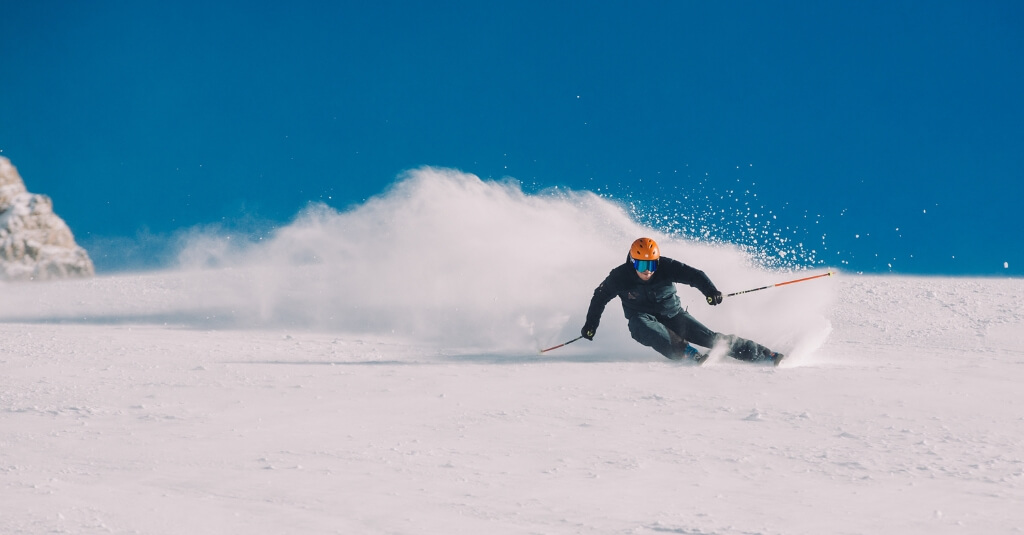 At first glance, Morzine ski passes look a bit tricky to understand. The Hunter Chalets team lives in the resort all year round, so we have put together this essential guide to make choosing one as easy as possible. Book a chalet with us and we will have your Morzine ski passes ready and waiting in your chalet, ensuring you don't have to queue at the ticket office and waste any precious ski time.
With Morzine situated in the heart of the Franco-Swiss region of the Portes du Soleil (one of the largest linked ski areas in the world), choosing the right ski pass is essential for getting the most out of your time in this beautiful Alpine village ‒ so let's get to grips with what's on offer and what might work best for you.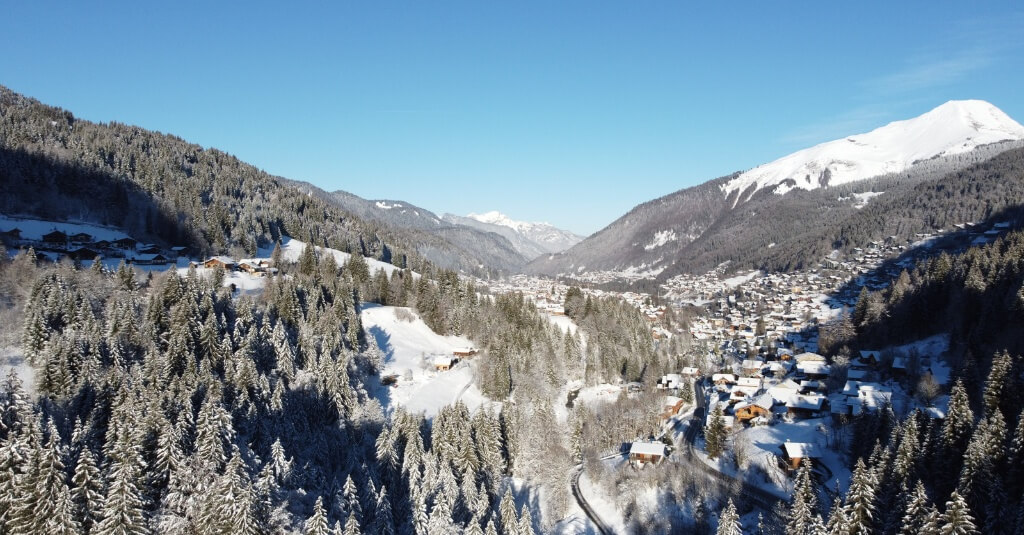 First things first, let's locate ourselves. Morzine is in the French Alps and sits between the mountain resorts of Les Gets and Avoriaz.
Morzine and Avoriaz are actually one commune. So, if you see 'Morzine-Avoriaz' referred to, that's why ‒ it's the town's official name! Morzine has a traditional village vibe, whereas Avoriaz is more of a futuristic take on a mountain resort.
Despite Morzine and Avoriaz being one commune, they are not 'as one' when it comes to the most popular ski pass.
Most people staying with Hunter Chalets in Morzine or Les Gets choose a Morzine-Les Gets ski pass, which gives you plenty of scope for an incredible ski holiday.
Les Gets is only a few minutes' drive from Morzine (closer than Avoriaz) and has its own town hall and Tourism Office. The two mountain resorts are connected via pistes, so it's very easy to ski between them.
If you want to ski further afield, with access to 12 ski resorts (including Morzine, Les Gets and Avoriaz) then you can opt for a Portes du Soleil ski pass.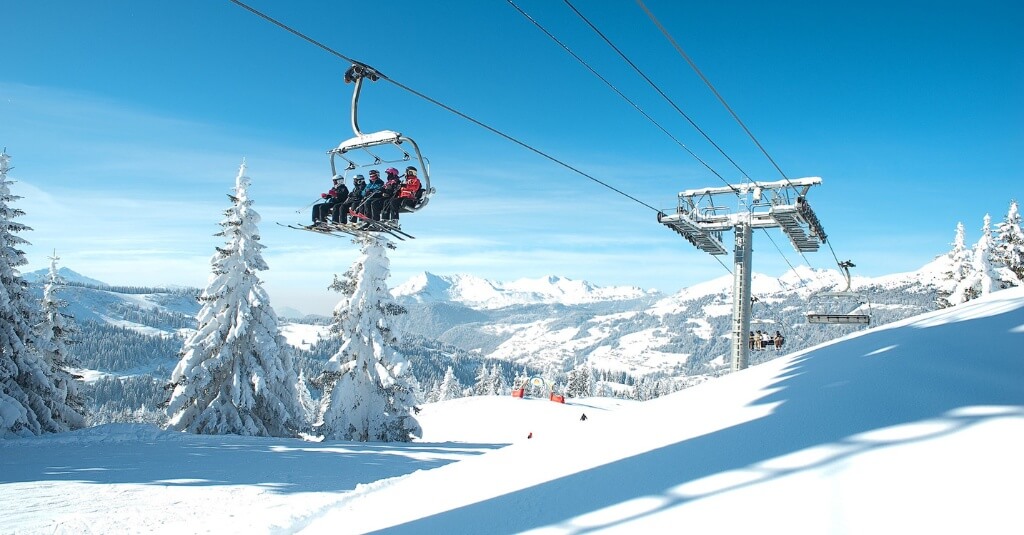 3 ski passes to choose from
You've got three options when it comes to lift passes: the full Portes du Soleil, Avoriaz Only or Morzine-Les Gets. It's worth noting that there's no 'Morzine-Avoriaz' lift pass.
Morzine-Les Gets ski pass
The Morzine and Les Gets ski area is 120km, totally connected and operates under one lift pass. This pass gives you access to 71 runs via the Pléney lift in the centre of Morzine, so you can easily ski between the two resorts ‒ however, it doesn't let you use the Super Morzine lift in Morzine, which gives you access up to Avoriaz.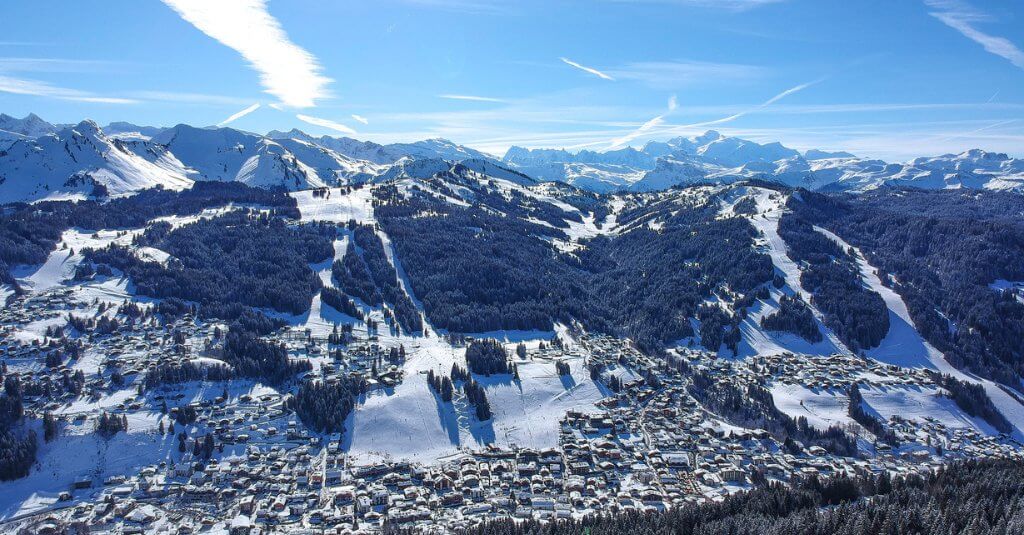 2 resorts
120 km of pistes
71 runs
47 ski lifts
2 snow parks
Children's / beginners' zones
1 boardercross
1 freeride zone
© V.Ducrettet | Les Gets Tourist Board
Portes du Soleil ski pass
The Portes du Soleil pass gives you access to 12 resorts spread between France and Switzerland, 600km of pistes, 199 ski lifts and all 195 of the area's lifts. The pass gives you access to both Pléney and Super Morzine lifts in Morzine, so you can ski the three neighbouring ski resorts – Morzine, Les Gets and Avoriaz – plus the possibility of covering two countries in one day.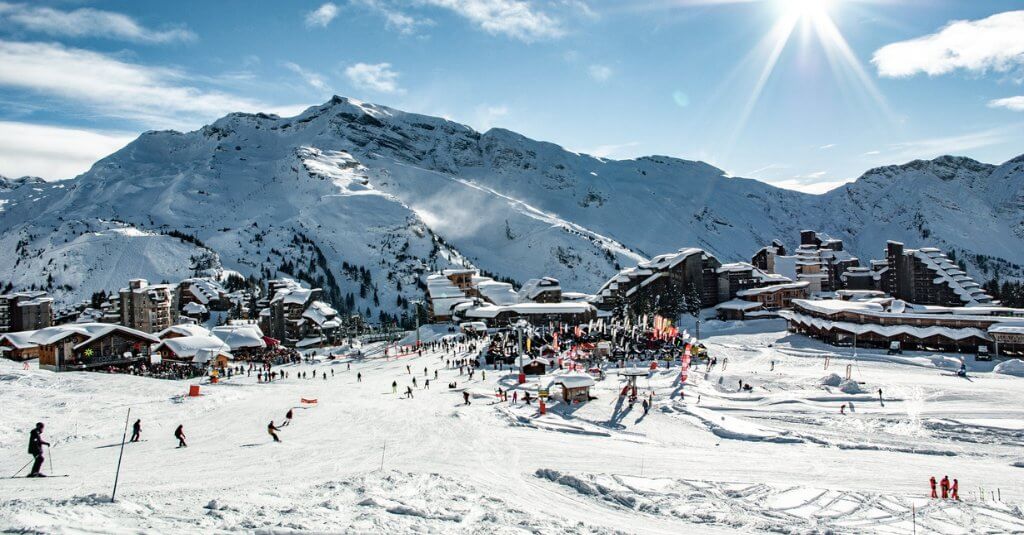 12 resorts
2 countries
600km of pistes
90 high-altitude restaurants
199 ski lifts
30 developed skiing areas
© Portes du Soleil Tourist Board
Avoriaz Only
Avoriaz has its own ski lift network that connects to Morzine and Les Gets, as well as the wider Portes du Soleil. You can use your Avoriaz lift pass to descend to/ascend from Morzine via the Super Morzine lift, which is on the other side of the village to the Morzine ski lifts. The Super Morzine lift will get you to Avoriaz, via the Zore and Proclou chairlifts and an easy green run, in about half an hour. The Avoriaz ski pass gives you access to the Lindarets bowl, Fornet bowl and the main Avoriaz mountain ski area. The Avoriaz pass does not cover Chatel or Switzerland resorts.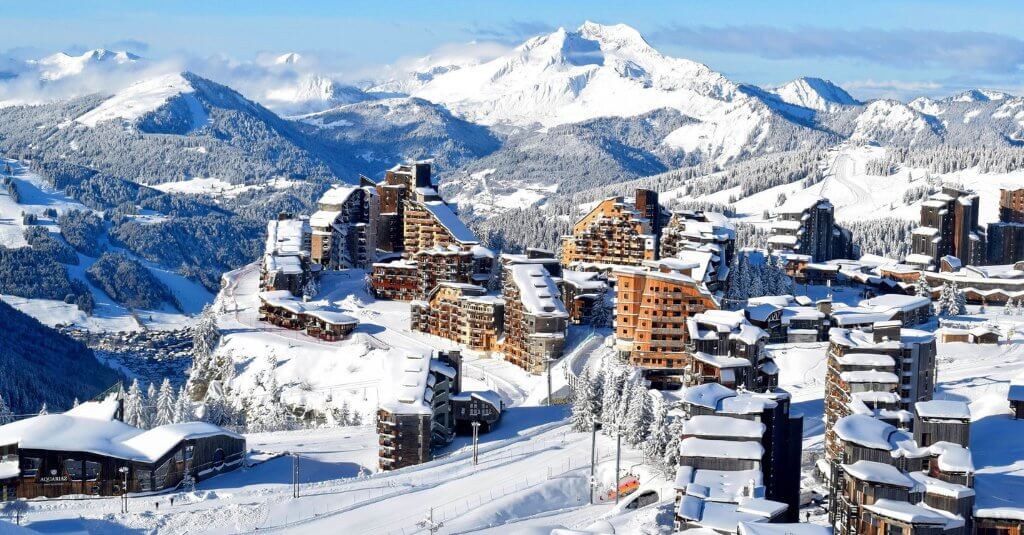 The Avoriaz ski pass is a good choice for shorter stays and particularly good if you are coming to stay at Hunter Chalets early in the season (mid December), as Avoriaz is snow-sure and opens a little earlier than the Morzine-Les Gets lift network. Staying early means a quieter skiing experience and lower chalet prices in Morzine, but limits you to skiing Avoriaz.
© Avoriaz 1800 Tourist Board
Which ski lifts will you be using?
There are five lifts that you really need to know about when visiting Morzine ‒ Nyon, Pléney, Super Morzine, Prodains and Ardent.
Pléney
Located in Morzine town, the Pléney telecabine gives you access to Morzine and Les Gets ski area. At the top of the Pléney lift, you'll find a big canteen-style restaurant, as well as the charming mountain-top Restaurant La Nabor with incredible views (just walk straight ahead when coming off the lift and you will see it on your right at the top of the hill). If you look left at the top of the hill, you will see the Magic Carpet and beginner slope. You can just step onto the Magic Carpet and do a loop to find your bearings on a snowboard or skis and it's often where lessons take place. Intermediates can make good use of the fun tree-lined blue and red runs here and it's a good option for bad weather, too, as the trees provide some visibility, with easy access back to town if conditions worsen.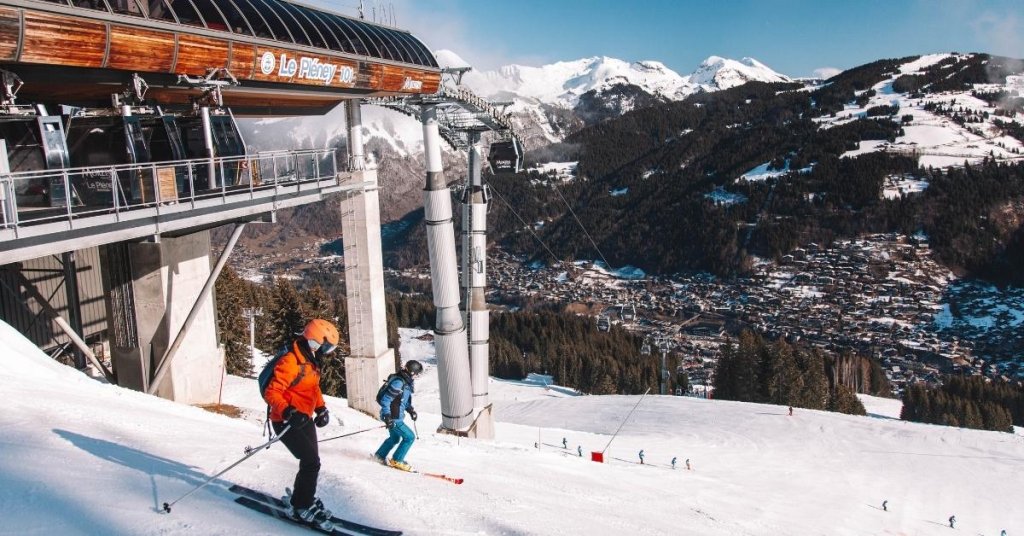 © VTL Photographie | Morzine Tourist Board
Super Morzine
Super Morzine is the other lift in the centre of Morzine. A bubble lift on the opposite side of the valley to Pléney, the Super Morzine lift will get you to Avoriaz, via the Zore and Proclou chairlifts and an easy green run in about half an hour. Avoriaz has brilliant snow, a snow park and a halfpipe, as well as easy access to Lindarets, which links to Chatel and Switzerland.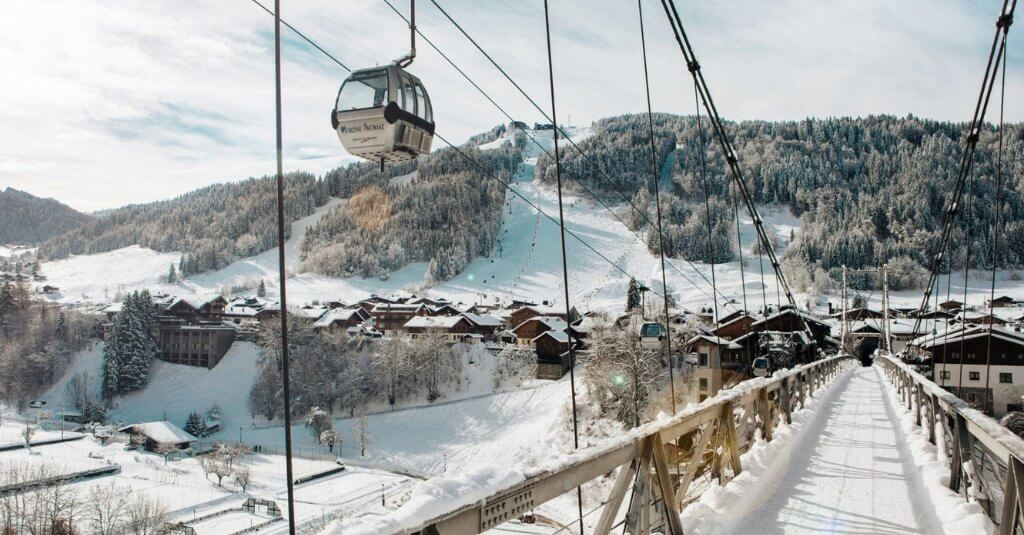 © VTL Photographie | Morzine Tourist Board
Prodains
The Prodains lift is about a 20-minute drive from Morzine centre and the lift will take you up into the centre of Avoriaz. The top of Prodains lift is a popular meeting point for a lot of the Avoriaz ski and snowboard schools. In winter, you can either arrange for our 24-hour driver service to take you to Prodains lift or take the ski shuttle bus (the 'A' bus route) that leaves Morzine every 10 minutes.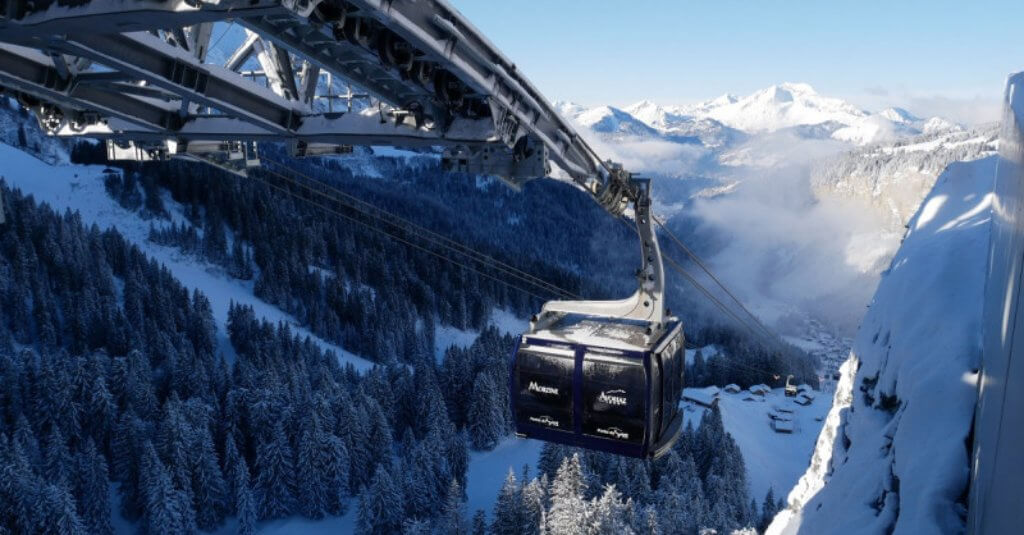 © Morzine Tourist Board
Nyon
The Nyon cable car takes you up Pointe de Nyon mountain at 2019 metres in altitude. From Morzine centre, it is around a 12-minute drive to reach the car park/cable car, which is next to Restaurant La Pointe de Nyon.
Alternatively, take the Pléney lift from Morzine village and, at the top, catch the Nabor chairlift. Then you can cruise down a blue run to Troncs.
If you are starting in Les Gets, you can get to the Nyon plateau via the Troncs lift after some red or blue runs.
At the top of the Nyon chairlift, you'll find Le Pas de l'Aigle, a 15-metre-long glass footbridge jutting out over the mountain. In winter, it can only be accessed on skis via the Nyon chairlift and there is a 350-metre drop between your feet. It gives you panoramic views and on a clear day, you can see Mont Blanc and Lake Geneva. It's a good starting point for a few wide red and blue runs that link Pléney to Les Gets, a freeride area that's perfect for powder days and incredible views. It is also worth mentioning that the restaurant at the bottom of the Nyon lift offers a very cool Eagle show!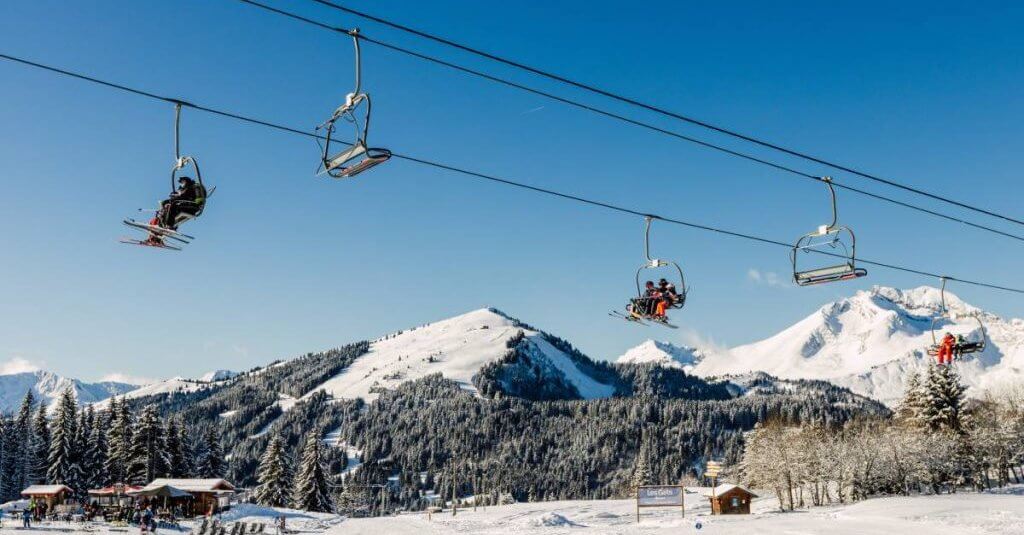 Nabor chairlift | © The Farmhouse, Morzine
Ardent
Ardent lift is about a 20-minute drive out of Morzine, through Montriond and up past Lac de Montriond to the ski lift. Our 24-hour resort driver service can take you to Ardent or you can catch the 'M' bus from Morzine town. This bubble lift will take you right up into Lindarets. From the top, you've got a blue run through the trees that takes you all the way down to the bottom of the Ardent bubble.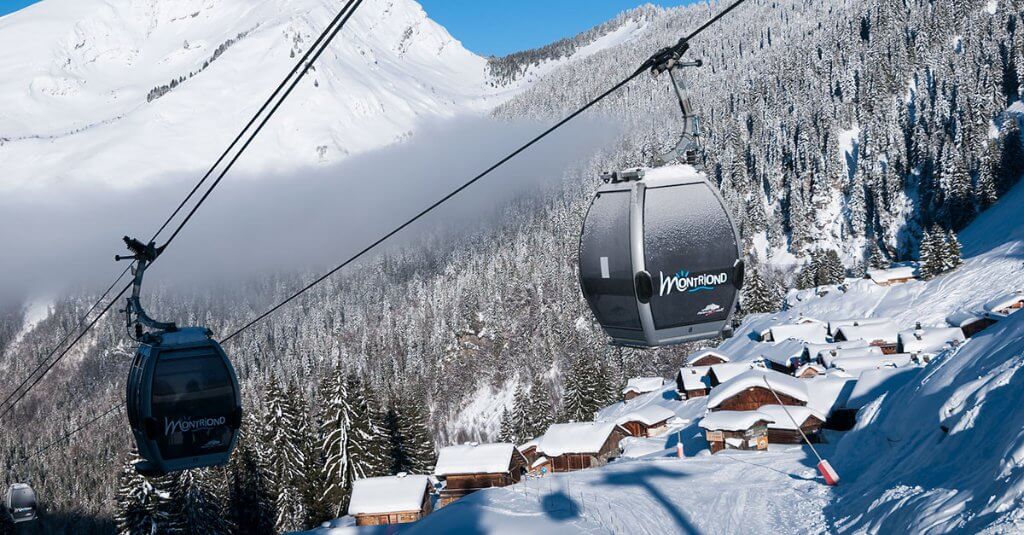 © OT Vallée d'Aulps
Lindarets
Lindarets is a large bowl with lots of restaurants and chairlifts, so it makes a fab meeting point for lunch (as well as having great runs and off-piste). One of the most popular runs is Prolays, which runs from Avoriaz to Lindarets. It's an easy, wide blue and is perfect for perfecting those turns, with lots of opportunities to practise side hits on the piste.
Lindarets is also where you need to head if you want to go to Chatel and Switzerland, as well as being the starting point of the Portes du Soleil Circuit.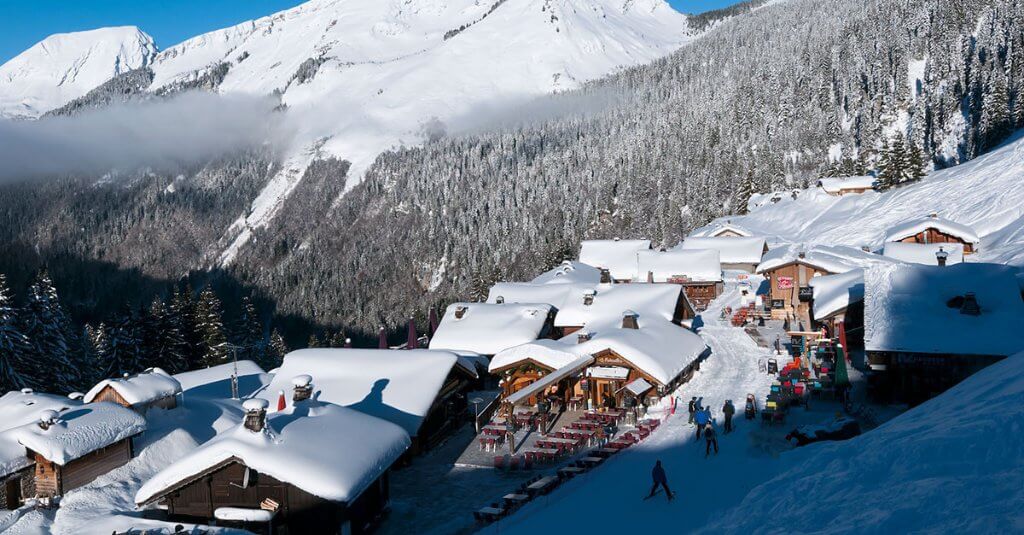 © OT Vallée d'Aulps
Chatel & Switzerland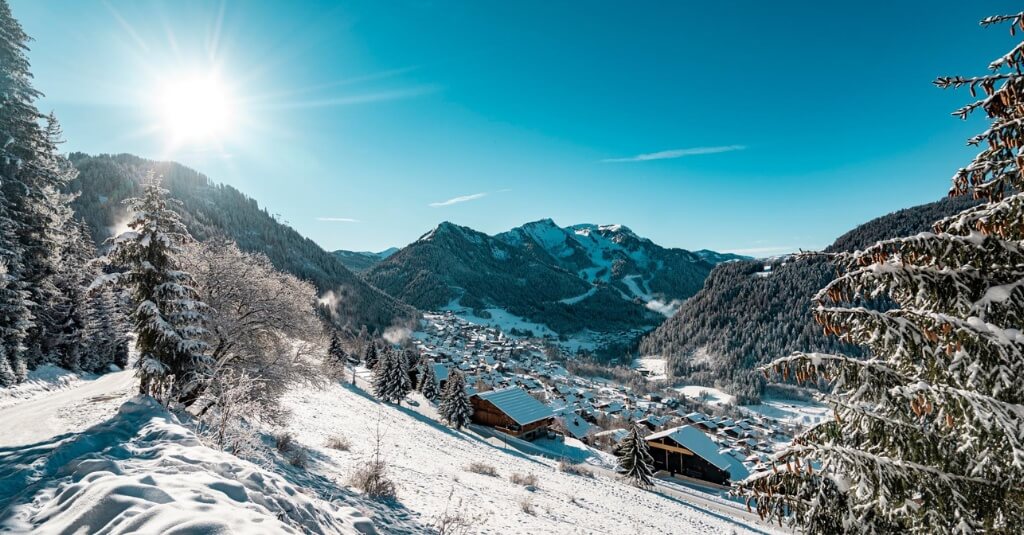 We couldn't leave you without mentioning Chatel and Switzerland ‒ after all, it's not every day you get to ski two countries in one session! Choose the Portes du Soleil ski pass to have access to all these areas.
Chatel has loads of runs for all abilities, as well as some great off-piste, and great options for lunch. Linga is a great choice for those wanting to blast down a really long piste head. It's pretty steep at the top but you'll find an easy blue to the right-hand side.
You can ski from Morzine to Switzerland by making your way there via the Mossettes lift from Lindarets or by dropping over the Swiss Wall, known to be one of the most difficult downhill runs in the world (a piste that gives access from Avoriaz to Les Crozet with an incline of about 40 degrees). If you don't fancy the Swiss Wall workout, then you can catch the Chavanette chair down, instead.
Ski passes waiting in your chalet
Once you've booked your Morzine ski holiday with Hunter Chalets, our Concierge team can help with ski passes. We offer a small discount on passes, though the real benefit is that they will be ready and waiting for you in your chalet. That's one less thing to worry about and no queueing for your passes on your first day here!
There are child, youth, adult and senior passes available, with different durations available. Guests who have booked a week-long stay normally opt for one of the 6-day ski lift passes.
As well as ski passes, we can arrange lessons and ski equipment hire, which we can arrange to be fitted in your chalet, meaning no waiting around in hire shops.
We look forward to welcoming you in one of our self-catered or catered chalets soon!
Contact us
For reservations and further information, email or call us: