Climbing Mt. Blanc – Guest Interview & Jöttnar Kit List
Jump to our interview with Gavin on climbing Mt. Blanc.
Click here to see the summit video clip.
At Hunter Chalets, we offer truly bespoke packages that allow you to tailor any holiday exactly to your requirements. Morzine has a multitude of activities to keep everyone in the family occupied (Take a look at our top 10 summer activities in Morzine here) but we also offer bespoke day trips and organised excursions for guests wanting to tie in other activities, such as climbing Mt. Blanc in the summer months or skiing the Vallee Blanche in the winter.
Morzine is a true year-round resort offering the largest connected ski area in the world during the winter and one of the best outdoor playgrounds in the summer. A mecca for mountain biking, road biking and hiking, we have had as busy a summer as we had a winter.
Just over one hour from Morzine, Chamonix and the dominating Mt. Blanc, which can be seen from many of Morzine's hiking trails, is a tempting challenge for many of our guests. One such guest and Hunter Chalets owner Finlay decided to prepare for climbing Mt. Blanc this past September.
Preparations began when we booked our client and Finlay in to the Gouter Refuge, a must before you take any further action. The Gouter refuge is the most common stop for the first night of the ascent and due to the popularity of the challenge, it becomes fully booked very quickly. A new refuge has replaced the old stop over and provides an extremely comfortable night's sleep and more than enough food to fuel you to the top. Next on the list was to book a guide for our climbers. Whether you are an experience climber or a relative beginner, climbing with a qualified Chamonix mountain guide is highly recommended. As Finlay and Gavin were about to realise, weather conditions can change in a heartbeat and having someone with you who knows the mountain inside out is not only a lifeline but common sense. Using the High Mountain Guides Bureaux in Chamonix Mont Blanc, IFMGA – UIAGM Guides, Finlay and Gavin were paired with Mountain guide Thomas Valentin (Check out Tom's guiding Facebook page here) and the date was set for the 3rd and 4th of September 2017.
Now we could get down to some practical preparations for climbing Mt. Blanc. Kit. Having met the owners of Jöttnar several years ago, we knew that they were the perfect brand to work with to provide both our clients and our employees with the best technical clothing available. Like Hunter Chalets, Jöttnar aim to provide the highest quality products in their field. They have been providing our staff with outerwear uniform that is not only high performing but looks smart with clean lines, disciplined design and made with exemplary craftsmanship; perfect for assisting guests and welcoming them to our luxury properties. With Gavin's request to take on the Mt. Blanc summit, we would now be able to really put the clothing to the test. Hunter Chalets arranged for all of Gavin's kit to be in resort when he arrived and also for extra kit for his family who would be staying in Morzine; you don't have to be a mountaineer to want to wear their clothes!

Here is the Jöttnar kit we ordered for our client:
Asmund Light Hard Shell Jacket
As most people are aware, layering is the best way to prepare for any outdoor activity and never was it more true on their climb.
Gavin and his family were spending a week with us in Morzine on a self-catered summer holiday with climbing Mt. Blanc added during the week. Hunter Chalets arranged all aspects of the climb as well as organizing accommodation for his wife for one night in Chamonix who wanted to be there to congratulate him on his return. Meanwhile, in resort, our 24hr concierge and resort driver were taking care of the rest of his family who were enjoying the bustling summer life in Morzine.
When it comes to climbing Mt. Blanc, there are many routes to the top, but we arranged for Gavin and Finlay to take one of the most popular routes, a two day ascent beginning at 7am on the first morning leading up to a night stop in the Gouter refuge followed by an early morning ascent to the summit and descend to Chamonix the same day. Click here to read UK Climbing's article on the route This route is suitable for people who have little technical experience but that is not to suggest that everyone can do it; whilst the timings may give the impression of an easy climb (5 hours up on the first day, 4-5 hours up the second day) they fail to account for the vertical challenge involved and the ever decreasing amount of oxygen. So, whilst the challenge is open to most, a serious training schedule should not be overlooked!

Climbing Mt. Blanc
Here is what Gavin had to say after successfully completing the Mt. Blanc climb:
Hunter Chalets: "What attracted you to climbing Mt. Blanc in the first place?"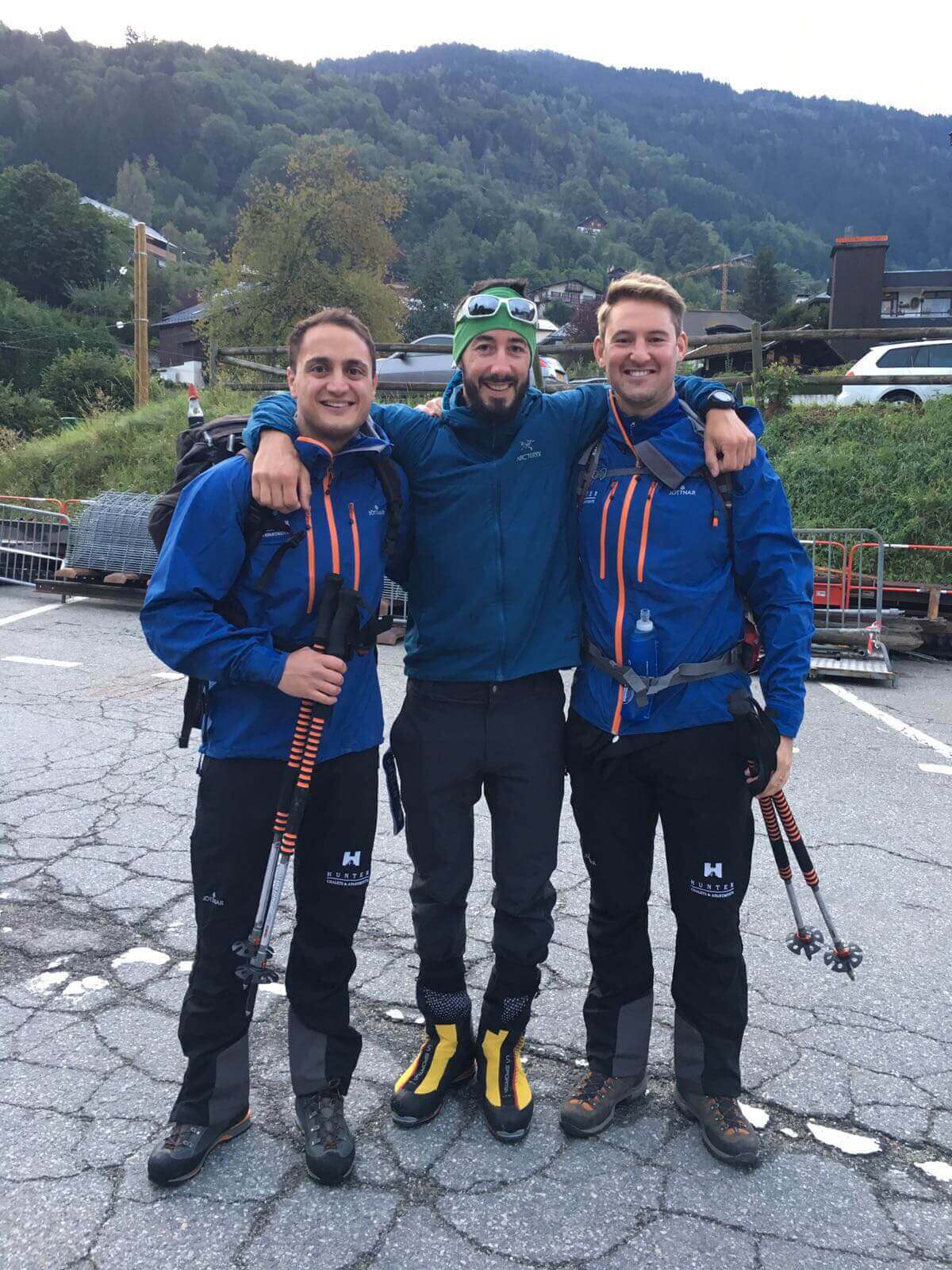 Gavin: I know Finlay from Glasgow and it was during some Après Ski, after staying with Hunter Chalets in February, that the seed was planted. After a few well-earned beers the subject of summer activities in the region arose and the extreme sporting activities available. One thing lead to another and before I knew it I had agreed to come out in the summer with my extended family and Fin and I were climbing Mt. Blanc!
HC: "How did you find the process of arranging the climb"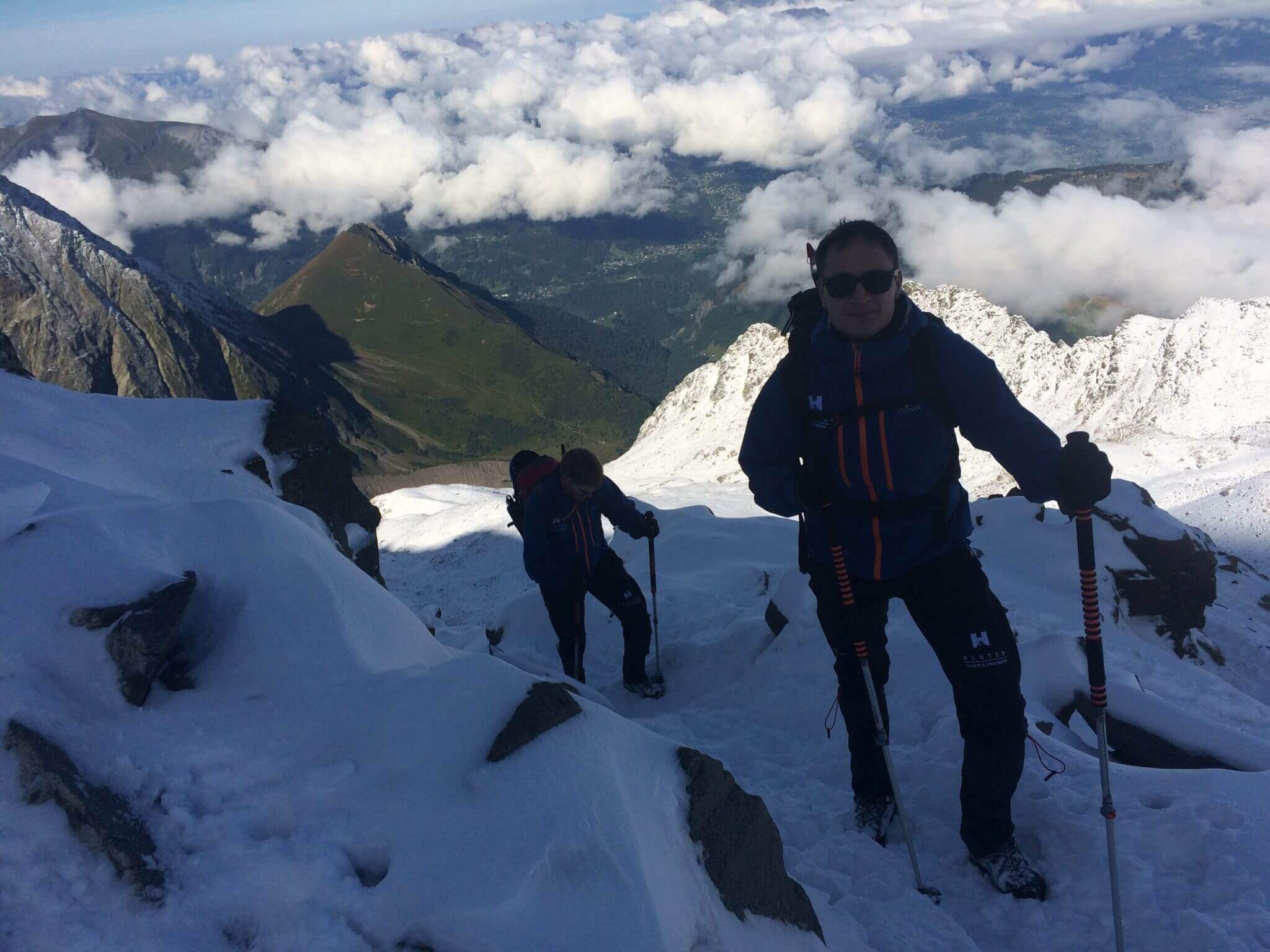 G: Fortunately Hunter Chalets took complete control of the booking process, as both my wife and I have fairly busy working lives. They arranged everything from transfers and booking the guide, to providing a kit list and most of the equipment as I didn't have the appropriate high quality equipment for such an expedition. The good thing is I am now fully kitted out for my skiing season! The only thing that I had to do was to calm my wife down by booking insurance which had to be done from the UK.
HC: "Tell us about the first day on the route up to the Gouter refuge"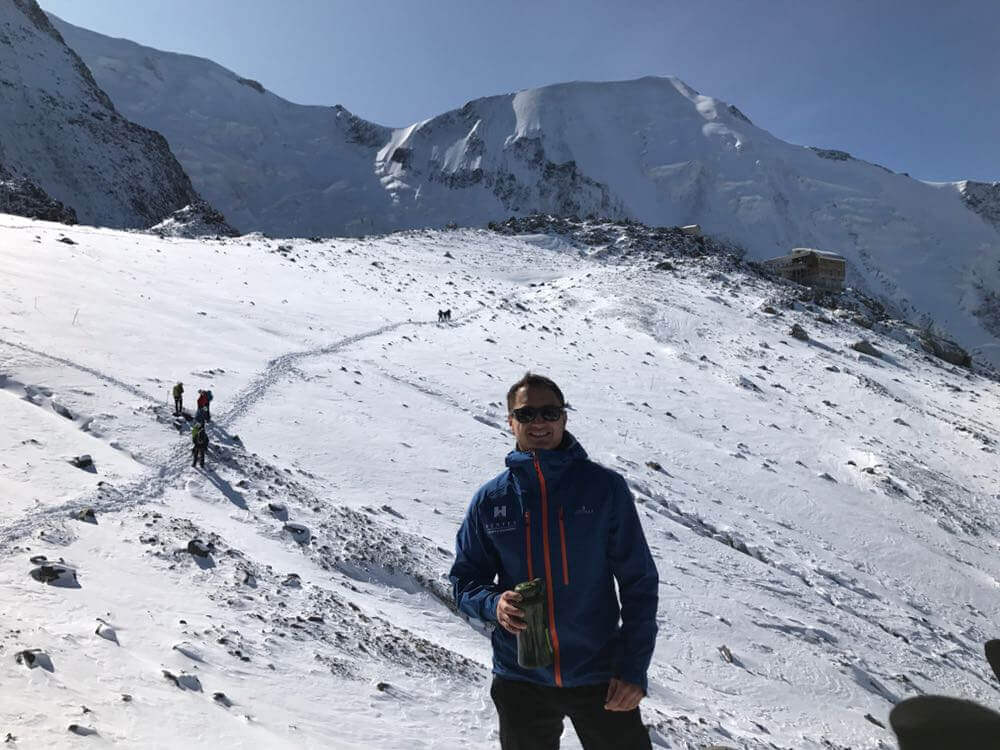 G: The first day was excellent, buoyed by naïve excitement of what truly lay ahead. We had glorious weather and Hunter Chalets had arranged a great guide called Tomas. He was vastly experienced in mountain guiding and this was his 12th summit of Mont Blanc. Early signs of his experience showed when he continued to dampen our enthusiasm to slow down so that we could gradually acclimatize to the change in altitude. We also realized fairly quickly the magnitude of our climb as we began to climb at quite a gradient with significant exposure to test most people's nerves! This was the most technical day of the climb with a lot of rock climbing and was probably the most enjoyable section for me. Nonetheless, it was very challenging and was testing our reasonably fit bodies to the max. Finally we reached the mountain hut for a well-deserved feed and some rest, although due to the altitude it was difficult to get sleep!
HC: "Was the summit day what you were expecting?"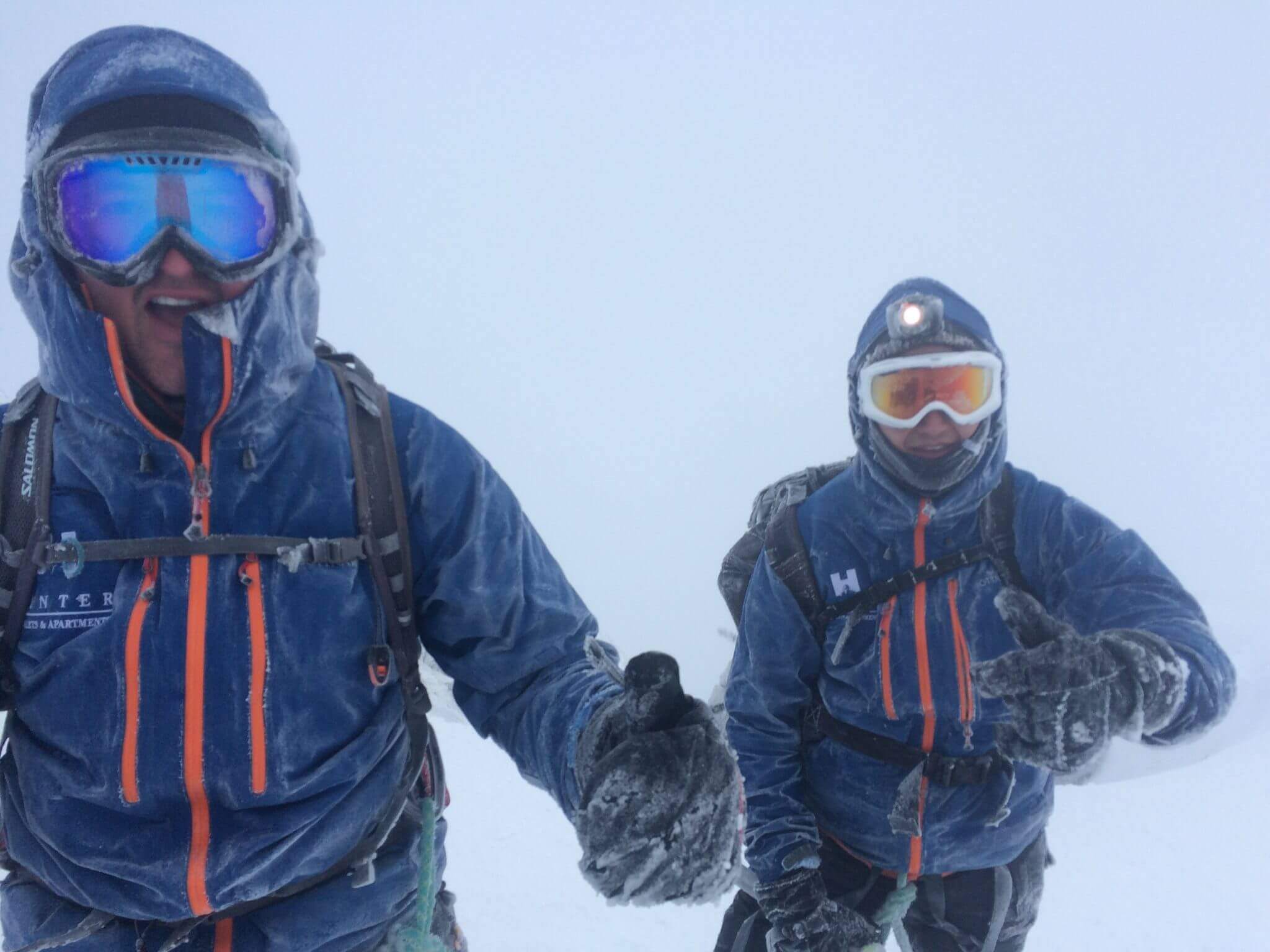 G: After a restless night, again adrenaline took over to get us up at 2am to fuel up for the summit for what we were hoping would be some cracking pictures at the top. How wrong we were…we opened the mountain hut to blizzard conditions with barely 3 feet visibility in front of us. This was not going to be the easy jaunt to the top that we were hoping for. Undeterred, we proceed to plow through the two foot snow for what felt like an eternity. It was a case of head down and power through. Fortunately we were both fairly determined and felt in safe hands with Tomas to continue climbing while others were turning back. We were also very well equipped with our Jöttnar gear which helped combat against the -20 degree conditions. Thankfully we made it to the top for a quick video and photo with no views apart from a whiteout and then we made the long trek home longing for a cold beer! It was a great but tough experience that I am thoroughly delighted to have achieved. What made it more of an accomplishment was when Tomas stated that, in the 12 summits he had achieved, the conditions this time were the worst that he had endured.
HC: "Would you recommend climbing Mt. Blanc to others?"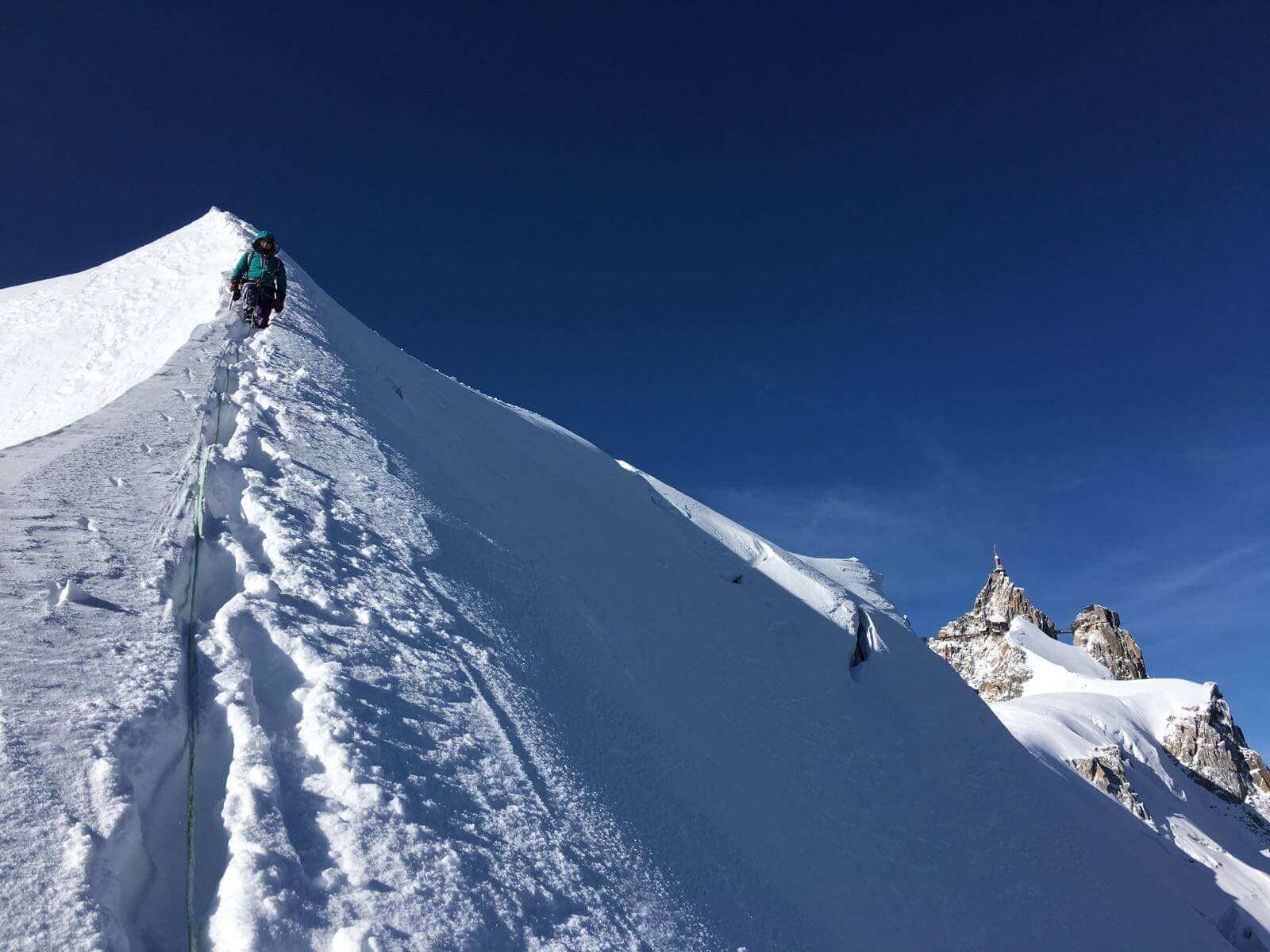 G: 100%! As mentioned above it was a great personal achievement that, despite it being far more challenging than I had imagined, it is great to say that I have done it. What I would say though, is not to under estimate the challenge that the climb imposes both physical and mentally.
HC: "Why did you decide to stay with Hunter Chalets instead of staying in Chamonix?"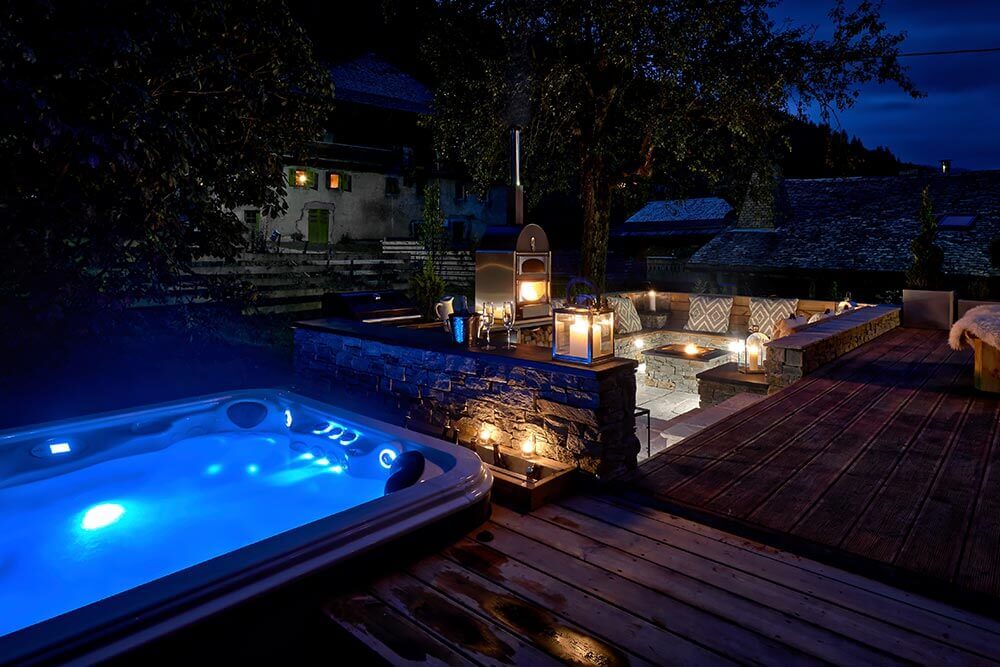 G: Having skied throughout the Alps, Morzine is by far and away my favourite resort. Not only for the skiing conditions but also for the village feel, restaurants and bars and other activities available so I wanted to see what it was like in the summer. Having done some research I found that not only is the weather great but there is also a lot to do. As we travelled in a group of various ages and interests it really was a perfect location. The lake is great place to relax and sunbathe, while the more adventurous in the group did some white water rafting with Frogs Rafting, again organized by Hunter Chalets. It was important for me to know that my family would be in good hands whilst I was on the climb and with the resort driver service and concierge on call they were able to get around town easily and the concierge booked all of their activities for them. The accommodation was also important to us as we wanted to have a garden to make the most of the fantastic weather. We made a lot of use of the outside space in the chalet by barbequing most evenings and using the hot tub…especially after climbing Mt. Blanc!
If you are interested in staying with Hunter Chalets for summer or winter holidays, contact us today on +44 20 3745 3452 or info@hunterchalets.com